So many ideas go through a "product journey" and turn into an android app. A bulk of them bites the dust and only a selected few are able to acquire millions of monthly active users.
There is a recipe for building popular and state-of-the-art android apps, and we will be demystifying that recipe for you in this write-up.
As a savvy android app development agency, we keep a pulse on everything that surrounds Android apps. We are always aware of the kind of apps that are trending and acquiring millions of subscribers, and we do it out of passion.
As the title suggests, we will be taking up 3 trending android apps. Don't worry, we are not talking about Facebook, Snapchat, or Instagram. You already know their stories, and there are other app ideas that start-up enthusiasts like you want to realize.
We will be talking about Spotify, FaceApp, and Deliveroo, which trended like anything in 2019 and are most likely to rule the charts of Google Play in 2020.
The write-up won't just discuss the "virality" aspect of these apps but will explain to you their functionalities and tech stack.
1. Spotify
Spotify is a popular music streaming android app, having 250 million monthly active users in its kitty.
With Spotify, users can have access to one of the biggest-ever collections of music albums, podcasts, and other forms of audio content.
It is currently ranked #1 on Google Play (United Kingdom), under Music and Audio, which speaks volumes about its popularity. (Source: SimilarWeb)
The premium subscribers of Spotify can listen to high-quality recordings in an uninterrupted fashion. They can download songs to any device on which they have installed the app.
In the earlier part of 2019, it had 217 million monthly active users, according to the company's official report. Out of these, 100 million were premium subscribers.
By the end of the year, Spotify is hoping to report 245-256 million monthly active users, and 117-127 million Premium subscribers.
Currently, Europe comprises 40 percent of Spotify's subscribers (Source: Spotity).
Key features of Spotify include:
Get recommendations from personalized features, such as Discover Weekly, Release Radar, and Daily Mix.

Build collections of music.

See what friends, artists, and celebrities listen to.

Create your own Radio stations.
What else you can do with Spotify?
You can play local files on Spotify. A majority of users have their favorite songs stored on laptops. Spotify can index such local files on a user's laptop and create a playlist.
The best part is; you can create a playlist that has both the local files and tracks from Spotify's own library, giving you the best of both worlds.
You can also share your "Music discoveries" with your network, meaning. In other words, you can share links or playlists on your Spotify wall and engage with enthusiasts like you.
Don't worry about creating another social network, as your Facebook network integrates with Spotify. So no extra efforts required on your part.
Tech Stack for Spotify
Generally, for music streaming android app, the tech stack is built around Python and JavaScript, and it's true for Spotify as well.
Its backend is mainly built with Java, and PHP is used (to some extent) for the server-side logic. Spotify uses many supplementary services, almost hundreds of them. This makes the backend architecture rather intricate. Most of these services are written in Java and Python, and the rest in Clojure and HTMl5.
The entire android app development (backend) of Spotify is segregated, in a way that each feature is assigned to a different set of developers (squad). It is called as Microservice architecture, where each Microservice is assigned a specific responsibility and a set of developers code for specific functionalities in an isolated fashion.
So if one feature fails, the other features will continue to work, as they are mutually independent. Also, since all the knowledge of one particular feature is known to one squad, it becomes easier to A/B test features, analyze the data collected, make an informed decision.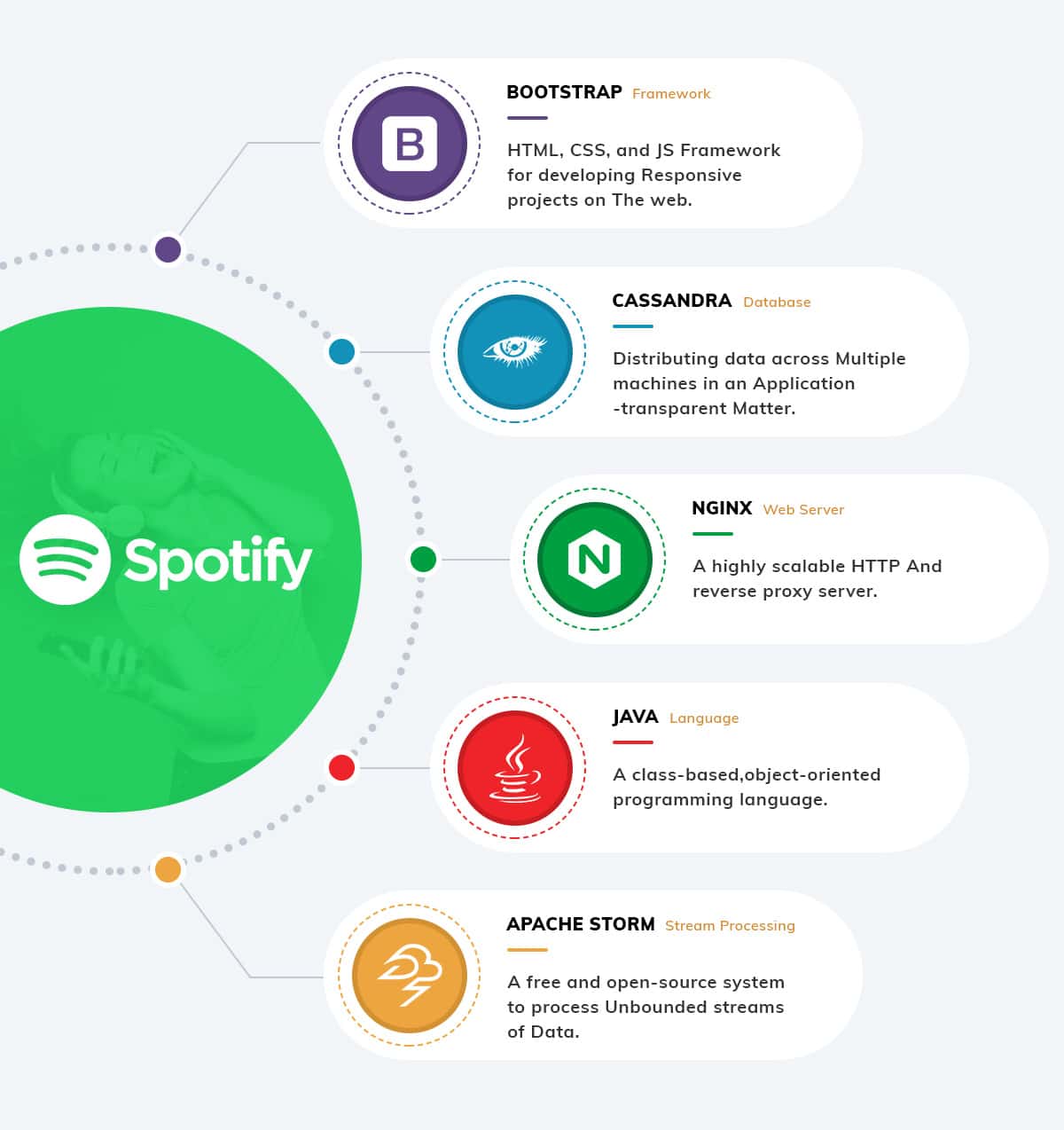 2. FaceApp
"Have you heard of the FaceApp challenge?". It's like asking someone, "Have you seen Game of Thrones?".
Just go through any social media feed. Be it Instagram, Twitter, Facebook, or any other android app, you will see it flooded with images in which people are putting their current version adjacent to their older self. And one must say, the pictures are looking so fascinating and precise.
This is "Going Viral" at its best.
The app is currently ranked #2 on Google Play (United Kingdom) under Photography. (Source: Similar Web).
This is not the first time the android app has ranked highly in the British market. As per Google, FaceApp was the most popular app of 2017 in the UK.
According to Sensor Tower, 12.7 million new FaceApp users downloaded the app in a single week in July 2019. By the end of the month, 49 million downloads were made on Android, over the entirety of July 2019.
How does FaceApp work?
FaceApp is a product of WirelessLabs (Russia) in 2017. The AI-powered android app uses "neural network", to make intelligent modifications to people's faces. Neural networks and image processing is trending in 2019, when it comes to android app development.
All you need to do is, take a selfie or upload an existing one from your phone, and the app's algorithms will do the rest. The app is not just about making oneself look older. You can reverse your years and look at your younger self. If you are overly curious, then you can also swap your gender.
This AI-powered android app collects complex data of your face (features, smile, wrinkles, etc). It then analyzes what difference will appear in those sections when applying the old age or any other filter. It uses its learning power to deliver the most accurate results to the users.
To add filters on photos and upload them on its server, the app uses server-side technologies, just like Prisma. However, it accesses only one picture at a time and does not ask users for permission to access their entire photo gallery.
Tech Stack for FaceApp (Android app development)
Java/Kotlin – When it comes to front-end development, it might be relying on Java or Kotlin for building its Android presence.
Python – Since the application is based on Artificial Intelligence, Python – one of the top programming languages – is conducive for server-side development.
OpenGL or OpenCV- They help in processing the pictures in real-time.
You can learn more about FaceApp's tech stack from the infographic below.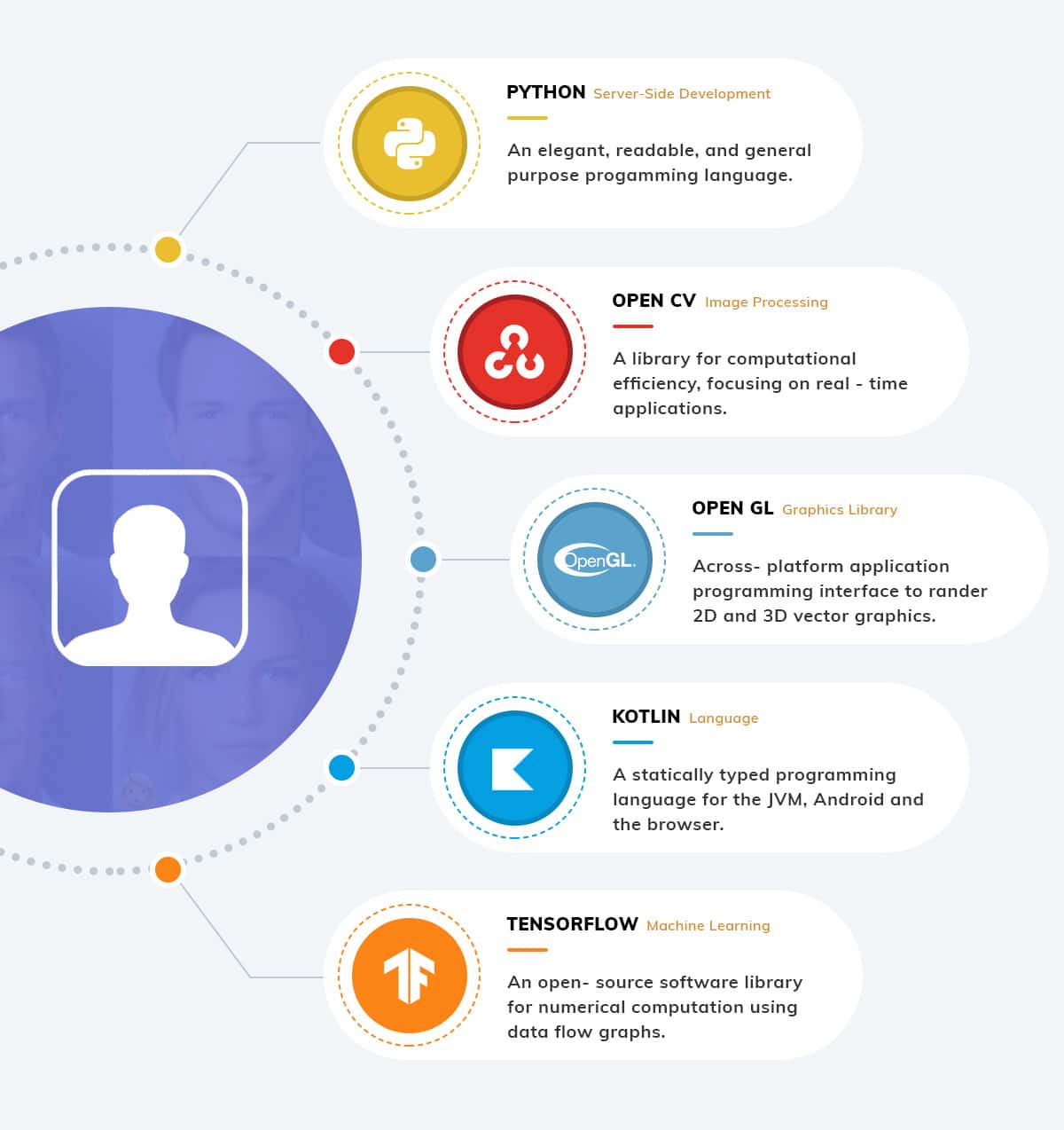 3. Deliveroo
Deliveroo is a food delivery app that serves as an intermediary between customers and restaurants. Using the app, customers place (and pay for) an order, and the participating restaurant gets the information in real-time. A Deliveroo courier collects the food and delivers it to the customer. Sounds pretty simple? Not exactly, as there is a complex algorithm that makes all this look simple.
It's currently ranked #4 on Google Play (United Kingdom) under the Food and Drinks category. (SimilarWeb).
As per a survey by GlobalWebIndex, Deliveroo is the third-most-popular food delivery app in the UK, after Just Eat and Uber Eats.
The key features include:
Tailored restaurant recommendations

Advanced search filters

Order tracking

Customizable delivery details
There is an algorithm (Frank) behind the efficiency of the app. The primary objective of the algorithm is to minimize customer waiting time. It sets the delivery radius in a way that encourages people to order from restaurants that are based locally.
Frank constantly calculates and recalculates, to determine the best rider for a particular order. It uses Deliveroo's historical data and various machine learning models to predict a rider's travel time as well as an order's preparation time.
Moreover, it processes a complex set of data to make predictions and decisions in real-time and stack orders based on these decisions. It can even tweak its response in accordance with real-world scenarios, such as travel delays.
Tech Stack for Deliveroo (Android app development)
The highlight of Deliveroo is its responsiveness. If something goes wrong with a customer's order, then the app allows customers to pictorially report the issue (share an image).
To spare the customer care team from going through irrelevant or poor quality images, Deliveroo uses Amazon Rekognition, which accurately processes all images in real-time. It rejects hundreds of photos per week (about 1.7% of all images that users submit).
The app also uses Amazon Simple Storage Service (Amazon S3) to store the photos that go into the customer service queue.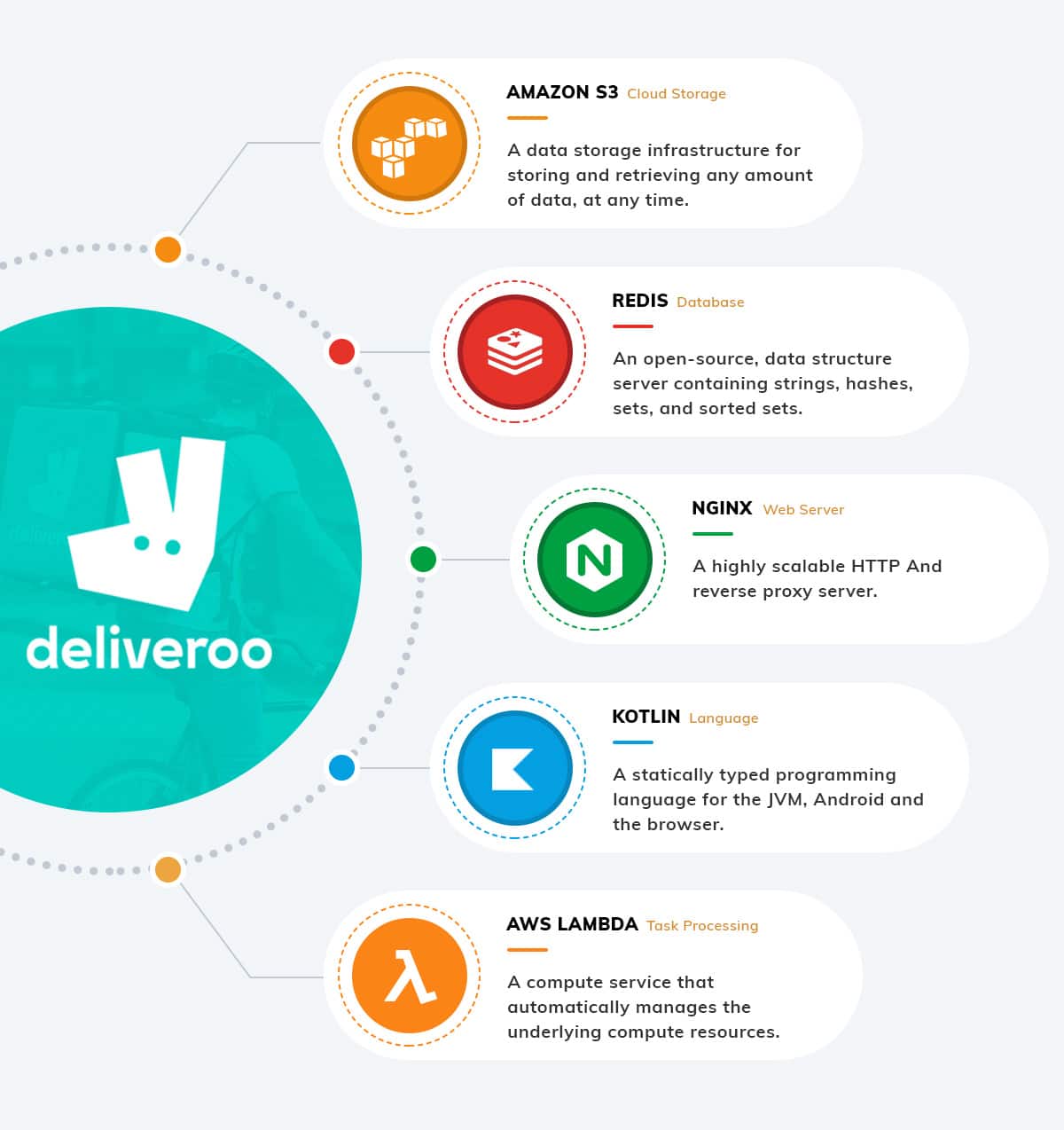 An important aspect of all the above-mentioned apps is the tech stack. To build such apps from scratch, you need an android app development agency that has full-stack developers.
Over the years, we have built a team that can work on a multitude of technologies and frameworks to build contemporary apps.
We are sure that after reading about the success of Spotify, FaceApp, and Deliveroo, your intent to build the next popular app must have become stronger. We have worked with enthusiasts like you before and have hit the ball out of the park.
So if you have an idea and are looking for the right kind of technological expertise, then let's connect.