If you want to enhance your sales and consumer base, then it would be a suitable option for you to integrate geofencing into your business. It has emerged as a tried and tested technique by product owners to get more engagement, sales, and loyal customers. Being a location-based service, Geofencing app development benefits businesses by facilitating engagement with their audience. It does so by sending relevant notifications via an app to smartphone users in a pre-defined geographic area. According to Statista's latest report, the worldwide smartphone penetration rate has reached 78.05 per cent based on approximately 6.055 billion smartphone subscriptions and a 7.8 billion population.
The recent research by Bain & Company states that an increment of 5 per cent in customer retention can lead to a profit increment of 25 to 95 per cent. As customer retention is a compelling task, knowing how to manage interaction with your potential leads in an entirely personalised manner will definitely help you.
Let's explore more about this exceptional technology for businesses.
Highlights of the Article
Introduction to Geofencing
How Does Geofencing Work?
Benefits of Geofencing
Case Studies from Companies Using Geofencing
Utilization of Geofencing by Marketers
Implementation of Geofencing in Marketing Strategies
Best Geofencing Tools
Introduction to Geofencing
Geofencing is a geographic area based service in which a software program or an app uses Wi-Fi, radio frequency identification(RFID), GPS, or mobile data to trigger a pre-defined marketing activity (like social media advertising, email, a text, app notification etc.). In contrast, an RFID or smartphone enters or exits a geofence, a virtual geographic boundary.
An easy example of efficient geofencing app development is when a young boy walks near a Nike retailer at the mall and gets an app notification on his smartphone that says: "Today only! Buy one pair of shoes, get one pair free!"
How Does Geofencing Work?
Geofencing helps you track a user's location via GPS, beacons, and Bluetooth. Other than geofencing, there are two conventional ways to use this technology to target users: Geotargeting and beaconing.
The main focus of geofencing is on the virtual perimeter you create around a particular geographic area to transfer targeted text messages. However, Geotargeting focuses on delivering targeted ads to desktop or laptop users based on their geographic location. While beaconing focuses on the transmission of targeted messages and data to nearby mobile devices.
You can configure geofencing to target a certain area, a business category, a demographic market, a brand location, a state, or a city. Also, you can send different types of notifications like social media advertisements, in-app notifications, and text messages whenever a user enters a geofence.
Benefits of Geofencing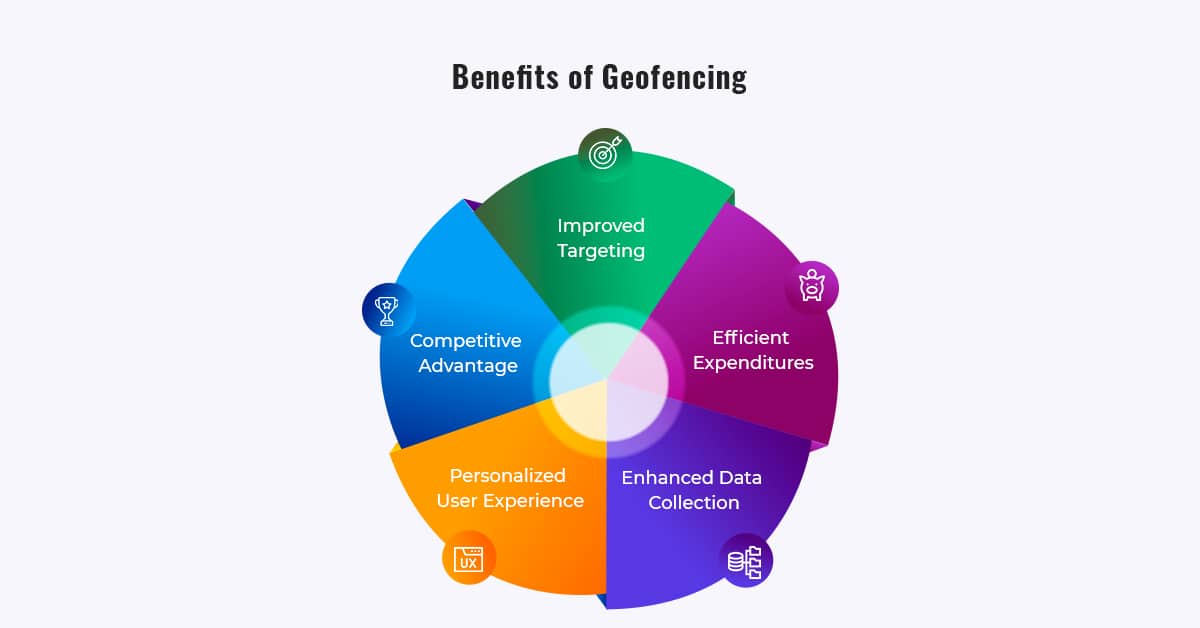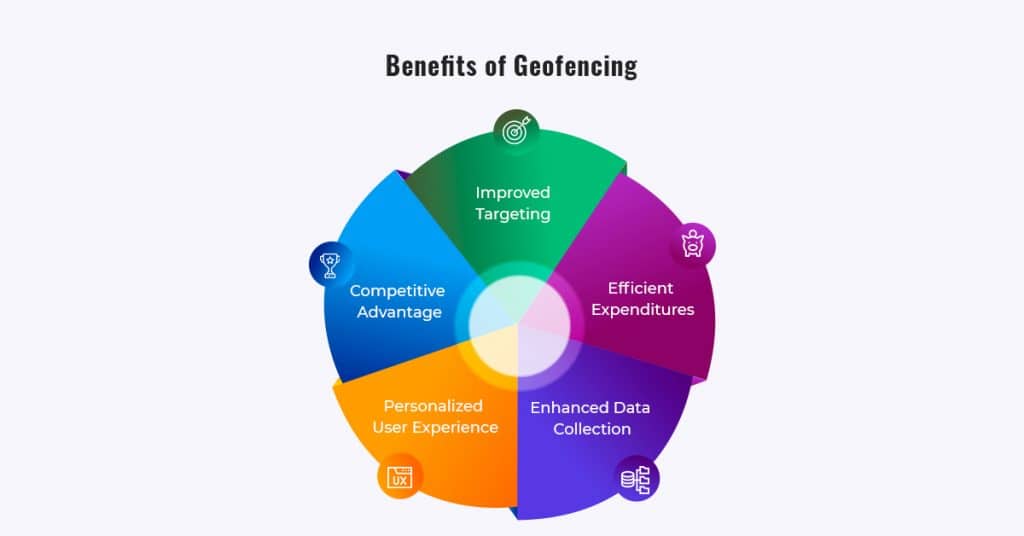 Improved Targeting
With hyper-target prospects compatibility, you will be able to reach the users at the appropriate time and place. Moreover, you can engage them with text messaging that is timely and relevant to their interest.
You can enhance productivity by targeting users in a particular geographic area and filtering that location by a specific targeting plan.
Efficient Expenditures
When you hyper-target your advertising and send it to the right place at the right time, there comes a boost in your engagement figures. For utilising geofencing, you will spend marketing dollars on reliable prospects that are likely to take action instead of spending on marketing myths.
Enhanced Data Collection
After the implementation of Geofencing, you will get access to a ton of insightful information metrics like insights on which mortars and bricks are offering a better performance, which target segment has higher traffic patterns, engagement, messaging effectiveness, and stay durations.
By combining this collected data with online activity, web browsing behaviours, and purchase data, a business can enhance the user experience, better understand the user behaviour, and increase engagement. You can also utilise the same data to target users who have previously visited certain geographical areas to build customised follow-up text messages.
Competitive Advantage
Instead of focusing on your physical location while deciding where to set up your virtual fence, you have to consider where your users are likely to be?
The utilisation of geofencing without an app has proven fairly unsuccessful for businesses worldwide. Why? Because the geofencing apps offer you excellent features and the ability to create prospects away from the competition.
In 2016, the brand Dunkin Donuts famously used geofencing technology to gain customers away from the competitive brands by building geofences around various coffee shops in the area and sending targeted advertisements to those prospects. The pattern for the success of Dunkin Donuts was: 36 per cent of the total users clicked on the offer, 18 percent saved the offer's coupon, and 3.6 percent of users redeemed the coupon and bought the product. The highest CTR in a single recorded by Dunkin Donuts was 76 percent.
Personalised User Experience
Geofencing also enables you to personalise the user experience. If you are marketing to a particular location, you can use the demographics of the local population of that area and perform the customisation of promotions accordingly.
Example for your reference: if a famous football team is doing really well this month, you could use that data to build custom promotions like one free burger every time Madrid wins!
Real-time Examples of Companies Using Geofencing
The utilisation of geofencing is rapidly becoming a marketing trend, though it's a relatively new marketing practice. The good news is, several businesses have gained a lot of success. Following are some popular examples: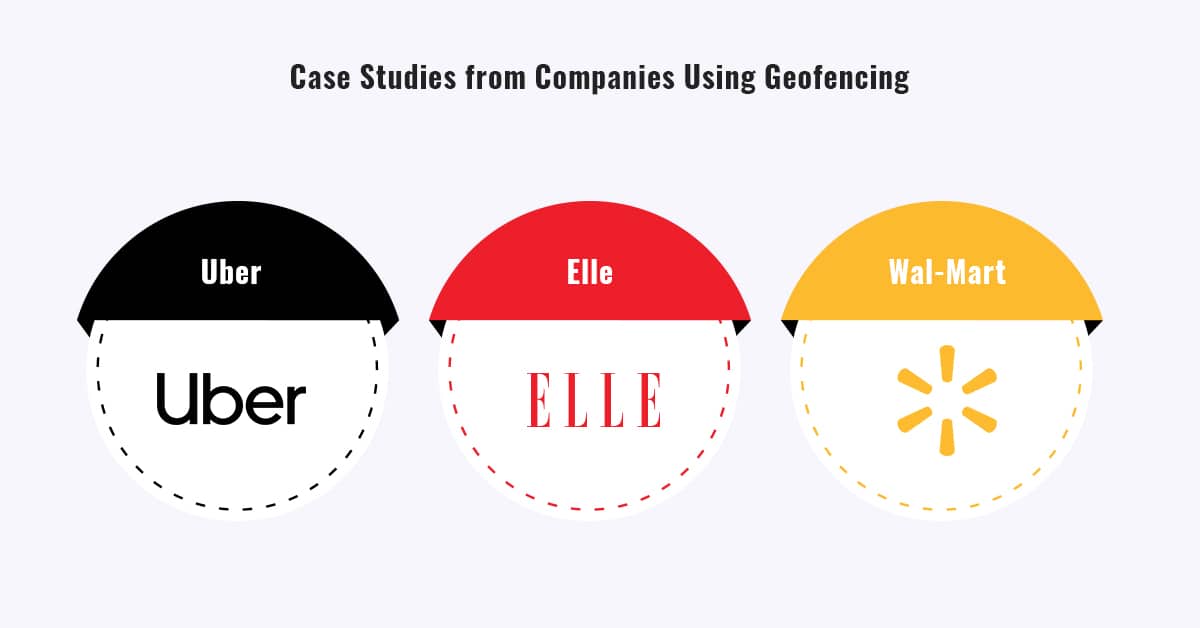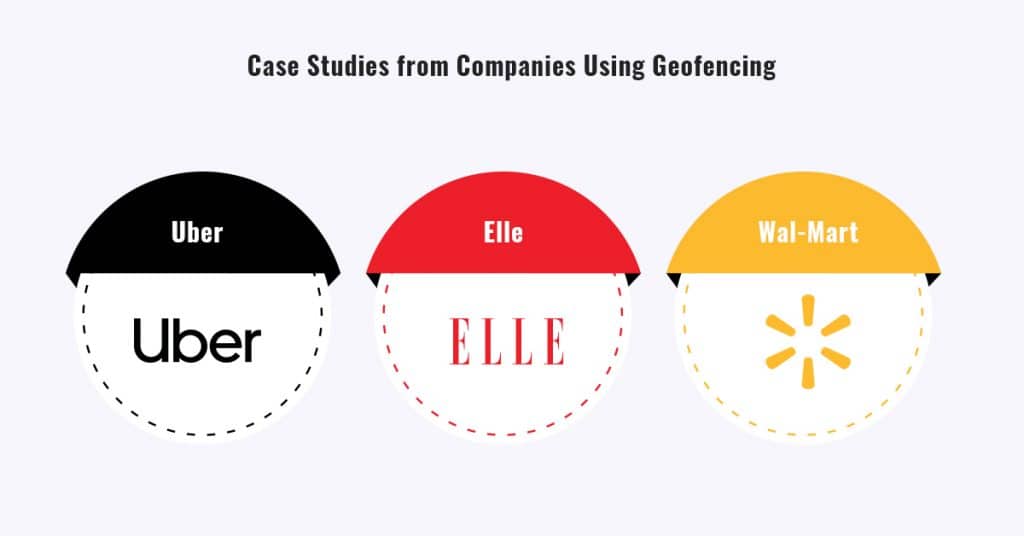 Uber (Cab Service)
Uber has utilised geofencing at LAX to alert people that they can book a cab to wherever they want to go within a few minutes, just with a few taps.
Elle
Elle has enhanced sales and productivity with a 'shop now!' mobile pop-up advertisement to connect potential consumers to prime stores, using the geographical area based offer. Geofencing has helped Elle to rank among the best names in the market. According to Statista's latest report, Elle's grass ad revenue of the magazine was 22.83 million euros.
Wal-Mart
Wal-Mart is another big brand evolving rapidly with employing geofencing technology. Their main application comes with store mode that catches the signals whenever a user comes into the range of the store and delivers e-receipts and coupons.
The Utilisation of Geofencing by Marketers
Brand App
Businesses worldwide have built their own application, which users install and which prominent marketers utilise to enable in-app notifications when a user comes into a geofenced coverage.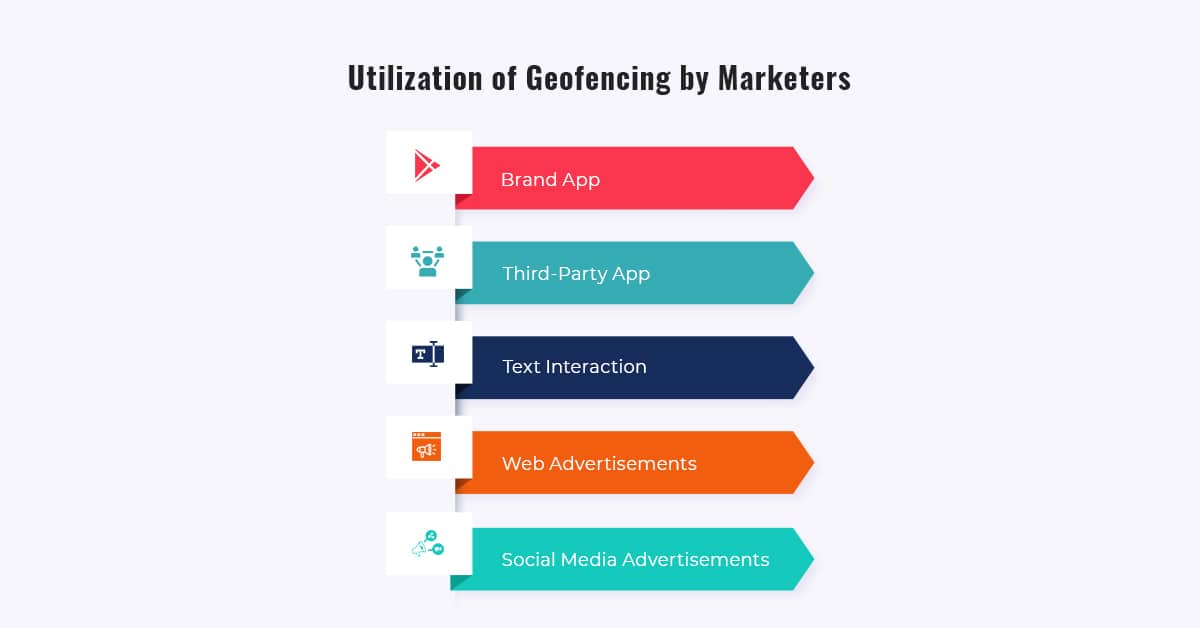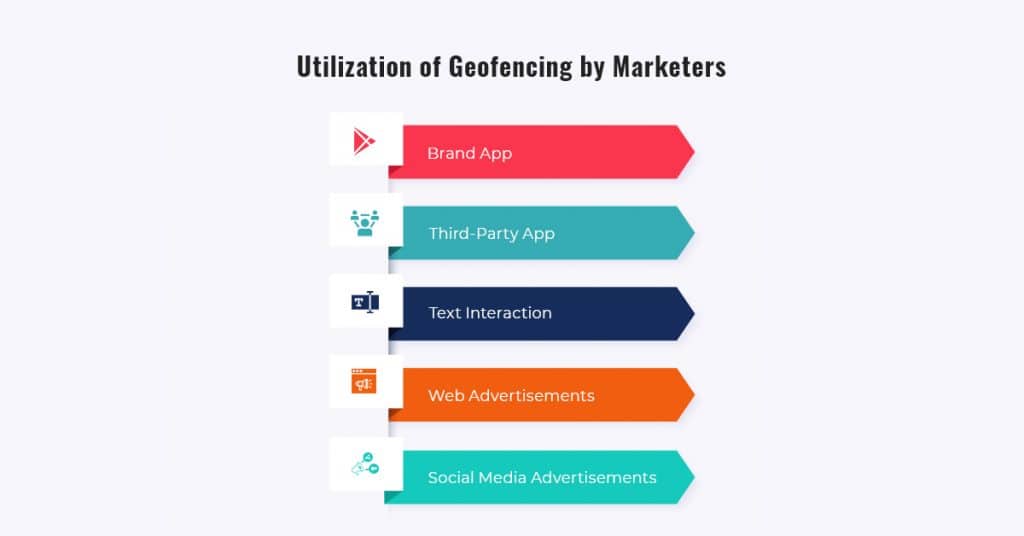 Social Media Advertisements
All the prominent social media platforms like Instagram, Facebook, Snapchat, and Twitter support geofencing. Via these platforms, you can set up your radius, and advertisements are enabled to users when they come into the range of that geofenced area.
Third-Party App
If you don't own an app, you can still use third-party apps to enable custom alerts. Just like, a coupon application can be employed by a restaurant to provide coupons once a user comes into a geofenced area.
Web Advertisements
Like social media advertisements, web advertisements are served to users once they have entered into a fixed geographic location using web search engines like Google or Bing.
Implementation of Geofencing in Marketing Strategies
Step 1 – Limit your Scope
No one wants to have a geofence that is too big, or it will decrease its efficiency. Another example to understand this: If a young man was 20 miles away from Nike's retailer store, it's quite unlikely he would be keen to visit the store just for a free pair of socks.
The common rule is to set up geofencing to a two or three-minute walking radius. That seems quite small but keep in mind: The geofence magic is aimed at prospects who are only a few minutes away from your business place. It will probably vary, relying on the mean of the drive times in that area.
Step 2 – Clear call to action
This should be a given, but it's worthwhile: You will want to employ a clear call to action that needs immediate actions and outcomes.
The main reason geofencing is highly efficient is that you aim for users walking in your current demographic area to provide them with a clear and agile reason to walk into your store.
Step 3 – Multiple Marketing Methods
Ensure to use various target marketing methods for best outcomes. As with an effective marketing plan, you won't get a high ROI using a single strategy. Combine geofencing with search engine advertising, remarketing, content marketing, video advertising, and display advertising to customise and target multiple, specific category users.
A notable fact is that Facebook, Google Adwords, and Instagram all are compatible with geofencing at no extra cost.
Best Geofencing Tools
Koupon Media
Koupon tool prompts an aimed offer to shoppers when they come within the geographic range of the store. It has functionalities that analyse the behavioural attribute of consumers within the geofenced range and utilises it to show the buyer with offers they can't resist while shopping.
xAd (Groundtruth)
xAd tool removes various forms of marketing assumptions since it serves notifications based on your potential user's location. xAd comprises an established platform that itself builds boundaries near places that users usually visit.
xAd with such insights helps marketers target advertisements to their users when they are within the geographic range. Later in 2017, the tool was rebranded to a new name "Groundtruth" which reflects the company's growing vision for exactly what location can accomplish.
NinthDecimal
NinthDecimal helps marketers aim for users near their stores or locations of the rivals, with tangible media advertisements through appointment requests, couponing, and calls; it also has a walking map to lead the consumers to your nearest sales point easily.
Wrapping Up
Your consumers are attached to their gadgets most of the time, and it's your responsibility to keep them engaged with your product in their free time. This guide to how geofencing works and benefits businesses will surely help you in making a huge impact in your relevant marketplace.
,