Travel in the year 2020 became an uncommon term. The outbreak of coronavirus halted travel globally. With the sudden restrictions and precautions, the tourism industry suffered a huge loss. Though travel is again picking up pace with some significant countries waiving off their imposed conditions, it still has to recover what is lost. Necessary travel restrictions cost not only the industry but also the travelers who embraced this industry.
But all thanks to the upgraded technological advancements that have the potential of bringing your desired travel destination to your doorstep. Yes, with the availability of technology like Virtual Reality, a user can virtually experience the travel destination from the comfort of his home. Virtual Reality enables a person to experience the replicated version of the actual surrounding through computer technology simulation.
This technology brings a lot of scope for the destinations/places which want to encourage travel. Businesses in this sector can use this technology in web-application or mobile application and can have their customers experience a try and buy option. For a company to invest in such a solution, it will be highly recommended to hire a web app development company's professional services.
Talking more about the amalgamation of Virtual Reality and Travel, let's move ahead with our blog,
Benefits of Virtual Reality For Travel and Tourism Industry
So the most significant benefit of VR for the travel industry is it provides a 'try and buy" kind of an experience to the users. It is evident that before making the final bookings at the desired destination, a traveler looks for the quality of the hotels. VR helps the hotels and related travel destinations provide a virtually rich experience of their services.
Needless to say, this enhances the experience of a user and the chances of him visiting that particular place increases. In short, VR can be used at its best to promote the unique selling proposition of a place as it has the potential to convince the customer way more quickly than simple images and reviews. It can also enable a customer to develop a more vital trust over the vendor providing the place's services. 
Another essential benefit of VR for the travel industry is to welcome and encourage tourism at places with various aesthetic attractions but less travel foot-fall. As is this case, the prior virtual experience can create a sense of aspiration in users, and they would be wanting to visit that place.
Apart from that, Virtual Reality can help explore various other options too like nature, architecture, art, culture, education, etc. Also, it can help market the travel and tourism industry more creatively and credibly. Taking travel experiences virtually to customers before they plan a journey can be profitable for both the customers and the industry. 
Travel and Tourism At Your Doorstep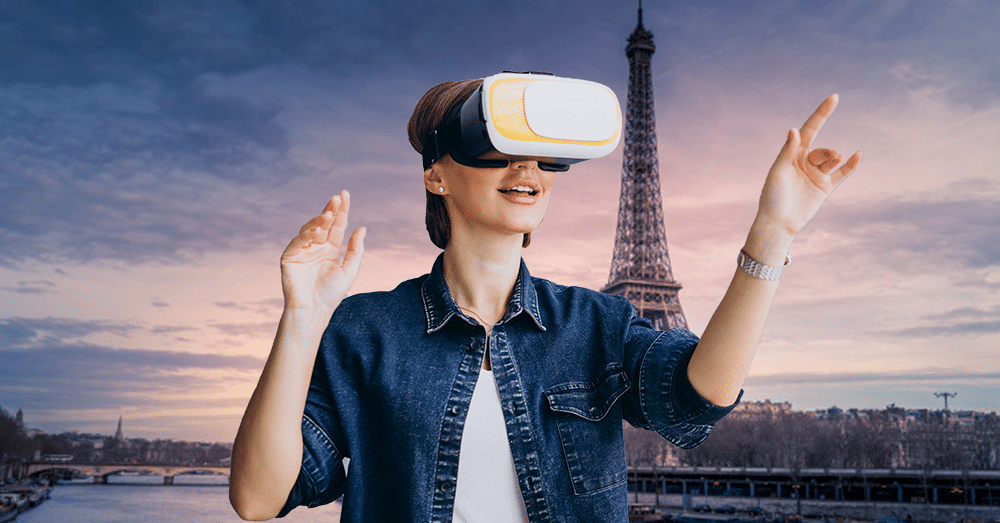 There are some existing examples of virtual Reality where it helps to plunge into different words without leaving your home's comforts.
Google Earth VR
With the motive of introducing this planet's beauty globally, Google, ten years ago, began Google Earth to help everyone explore our planet. Today, we have Google Earth Travel Experiences that help the world to see the world better. With Google Earth, one can virtually fly over a city, stand at the top of the building, walk along new streets and even soar into space.
It comes with cinematic tours and hand picked-destinations that virtually send you to the Manhattan Skyline, the Amazon River, the Grand Canyon, the Swiss Alps, and many more.
Boulevard
It brings art, history, architecture, and culture to people around the world. Boulevard gives immersive virtual access to various global museums, art galleries, and cultural sites and revolutionizes the way people look at them. With the current innovations and dynamism in the content, it makes history alive for people and makes it available for them, at any moment and any time.
Everest VR
The Everest VR is not designed as a virtual game; instead, it is an accessible experience created with the help of VR. It enables you to experience Everest in 5 iconic scenes. Now prepare yourself for an expedition at Basecamp, traverse the path-breaking Icefalls, scale the extremely steep Lhotse Face, climb the Hillary Step, and finally reach the Summit of Everest.
Future of VR in the Travel Industry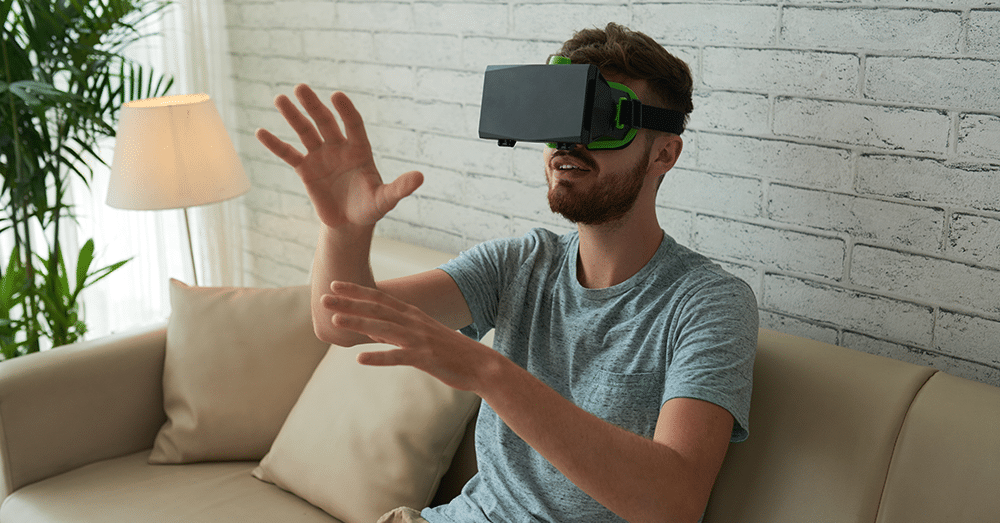 Customers in the travel industry seek to purchase experiences and memories rather than products. It is a golden opportunity for businesses in the related sector to invest in a VR solution that can provide users with an enriching and convincing experience to set their travel goals.
It can help gain back the pace of travel, which got out of track due to the CoronaVirus. Moreover, Virtual Reality keeps the potential to take travel destinations virtually to travelers at their doorsteps. It offers solutions that can help a person explore the Amazon forest, virtually sitting in his drawing-room. Elaborating further upon it, let's discuss how the below-mentioned services can have a brighter future using Virtual Reality,
Travel Agenciencies
To encourage travel in times of covid, travel agencies are making use of web applications based on VR. These applications provide customers an exhaustive and aesthetically rich view of destinations through 360-degree videos and cinematic productions.
TheseThese companies are promoting travel destinations and helping customers be assured of safe traveling in these unprecedented times. A New Jersey-based company, Travel Word VR, has already utilized this technology by creating an application for travel agents. This application consists of various VR videos of numerous hotels and destinations, which help customers choose the best from the rest.
This application is already leading the distribution panel for VR videos, and a bright future can be foreseen for such solutions. Henceforth, the travel agencies should invest in a web app development company to get similar solutions ready about their choices. 
The Hotels
The traditional marketing methodologies of hotels have now become stagnant and calls for some freshness. In an era where every year, a destination emerges to be the best travel destination of the year, we require better marketing tactics to promote the beauty of various destinations.
Virtual Reality helps hotels to take their services and facilities virtually to the customers. This, in turn, acts as a medium to create an aspirational value for the hotels and attract customers to visit the place. Imagine if we can virtually see the promising beauty of a hotel in the Maldives with 360-degree videos of infinity pools and rich marine life; how on earth can we deny to visit this heaven on earth?
Airlines
Various airlines have been at work to provide a 360 degree VR rich experience of lounge and movie theatres to its passengers. With these passengers on board can escape their Reality and can enjoy entertainment rich content while traveling as they can have a movie theater experience and access 250 hours of content from blockbusters to documentaries in HD, 2D, and 3D while being on the flight.  Skylights are the first company that has been providing VR as passenger entertainment since 2016.
The company has its content partnerships with National Geographic, Warner Brothers, Dream Works, BBC, etc. British Airways, Garuda Indonesia, Air France are some of the prestigious clientele of Skylights. With the pandemic, Virtual Reality for inflight entertainment is undoubtedly going to have a positive effect on getting travel back at its pace.
The Travellers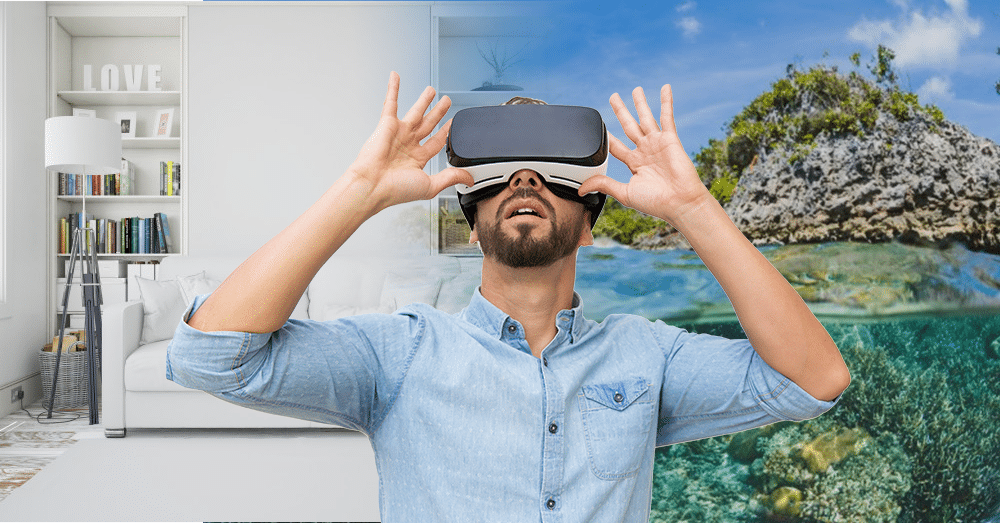 In times of the pandemic, it is both the travel and the travelers who are waiting for things to get back to normal. Virtual Reality comes as a savior in this situation as it can help satiate the quest for the ones having a wanderlust. Obviously, it can not make you feel the same way as you might feel being on a beach, but it can definitely help you experience its aesthetics virtually. In other words, Virtual Reality is beneficial for the industry as the aspirational value created in customers can help convince them for a safe traveling experience.
As we have discussed above, there are various applications created to promote the destinations virtually; both the industry and the travelers are making the best use of it. The best one being the Google Earth VR enables you to experience the travel virtually at any place, be it the Amazon Forest or the river Thames in London.
The other one being the National Geographic Explore VR that has been created in partnership with National Geographic. It provides a rich VR experience inviting you to discover the most iconic locations on the planet earth. With this, be ready to discover the gracious beauty of Antarctica by navigating around icebergs in Kayak and climbing colossal mountain peaks to locate penguin colonies.
 Lastly, we have The Great Pyramids of Egypt, one of the escape now seven-part travel series, which take viewers virtually to the ancient pyramid-shaped masonry structures of Giza. It has been filmed and hosted by award-winning Virtual Reality film maker Tarik Mohamed. The tour features an exhaustive commentary and background that offers viewers immersive and fascinating insights into the experience.
Conclusion
The year which saw the maximum travel limitations due to CoronaVirus is now slowly gaining a pace back into normalizing travel. Virtual Reality comes as a boon in doing so as it keeps the potential of the travelers virtually to the place of destination. It creates an aspirational value within viewers and helps them be assured of safety while traveling. Along with that, it keeps the potential to promote destinations that are underrated and have a lot of promising features to welcome the travels.
Moreover, it's a newly evolved marketing tool to promote the travel and tourism industry in a more realistic and convincing way. The 360-degree views and virtually rich films also keep the potential to entertain travelers being onboarded in the flights.
Here passengers can get access to 250 hours of non-stop virtual entertainment through VR rich videos. Skylights are a company that provides VR solutions for an inflight entertainment experience. British Airways and Garuda Indonesia are one of the prominent users of this technology. Through Virtual Reality, the hotel booking experience for travelers has also changed as hotels can now promote their unique selling propositions and feature more elaborately through VR.
This gives the travelers a try before you buy experience and help them select the best. It is suitable for the start-ups in this industry to invest in a good web app development company to get a customized VR based application for their solution. Today the advancements in technology have reached a height where one can virtually experience being transported to a beach through Virtual Reality. These advancements in technology are working to make the future more accepting and adaptable for users. It's attractive to be a part of technologies that are created, keeping the user perspective in mind.