Do you always need to download an app to use it? I mean, install it one time on your phone and have it take up space that you could have used for some other important stuff. Imagine the storage occupied by that app could store a hundred more pictures of your favourite people. But we don't realise all this earlier anyway, right? Now imagine how wonderful it would be to try and use an app without installing it. Well, you won't believe this, but it is possible. Yes, you heard it correctly – 'using a mobile application without downloading it.' But how? Well, Google's Android instant app is the answer to your question.
Android instant applications (or Google instant apps) is a method to reach out to the maximum number of people and engage them with your mobile app without making them install it. However, to know all about instant apps and their benefits, you have to read this article ahead.
This article will introduce you to the:
Android instant applications
Need of using this feature
Procedure and specificities needed to develop an instant app
Benefits of instant apps
What Is an Android Instant App?
As the name suggests, Android instant apps are the lightweight version of a primary application that can run on a device without installing them. These apps are specifically designed to enable users to access specific parts of app content and help them save storage space on their devices.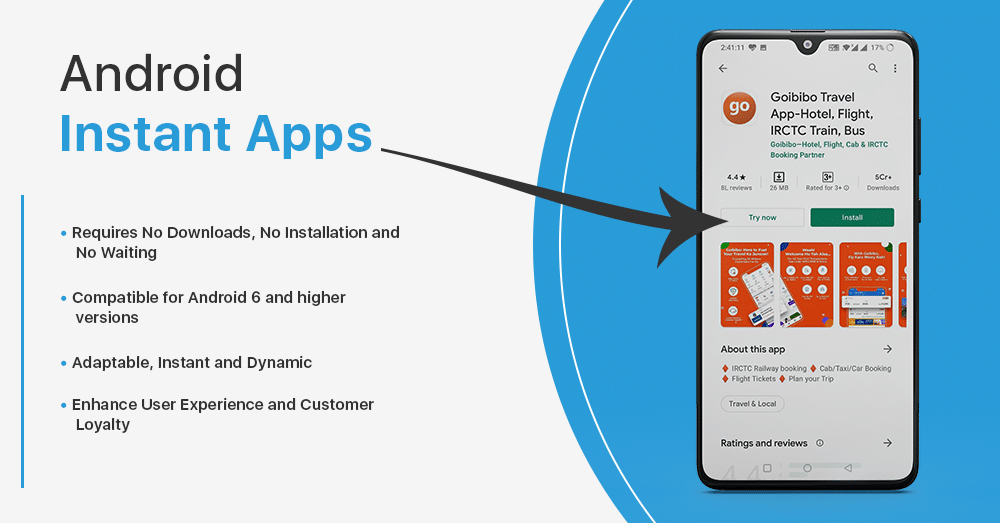 How Does the Instant App Work?
No Downloads. No Installation. No Waiting. – It is the primary motto for Google instant apps. An Android instant application operates similarly to a web page browser. When Google Play gets a request for a URL that links to an instant app, it shares the essential code files to the Android device that sent the request. After that, the device runs the instant application you have requested for.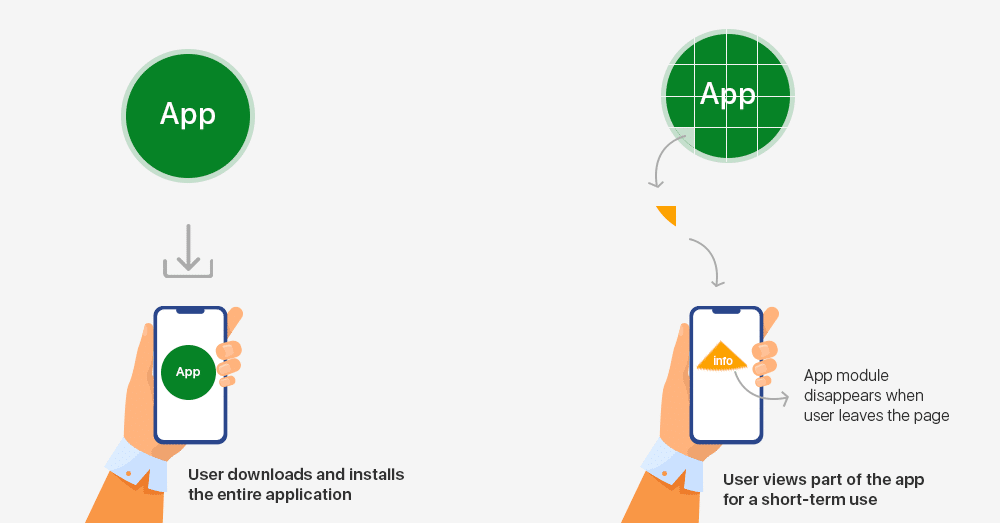 Instant apps are the core features of the main application, with each unique part being a fully functional self-contained app. To understand this better, let us consider an example of a movie ticket booking application. The parent app focuses on the following specific services:
Searching for theatres, premiered movies, and availability of tickets in them
Viewing the ticket prices and the offers available for the users
Selecting your preferred seats and paying for the movie tickets
Now, these three functionalities can be entirely three different instant apps. So, if a user only wants to search for ticket prices for a movie but does not want to book them, an Android instant app, if available, will be there for the user to serve the purpose. It will not only save the users' effort or time but will also enable them to experience the native app of the business.
The History of Instant Apps:
Google Instant apps (known as Android instant applications) first revealed in 2016 at Google's I/O developer conference. Since then, they made their way into the lives of developers, business owners and users. They show a substantial change in managing the applications and interacting with the mobile software.
The evolution of instant apps is one of the revolutionary steps in the mobile app development industry. At first glance, they do not vary much from the typical mobile applications. In fact, their appearance and functions are pretty much the same as any other app. The big primary difference is that users do not need to install them on their devices to use them. A user only needs to access Google Play for instant apps and try their basic version without setting up the entire application.
How Can a User Access an Instant App?
To access the instant apps available on Google Play Store, users have to turn on the same option on their device settings. For example, you can follow the below pictures to understand the procedure to use an instant application on your device. The device used here is OnePlus 7T, and the options in your settings menu can be a little different from it.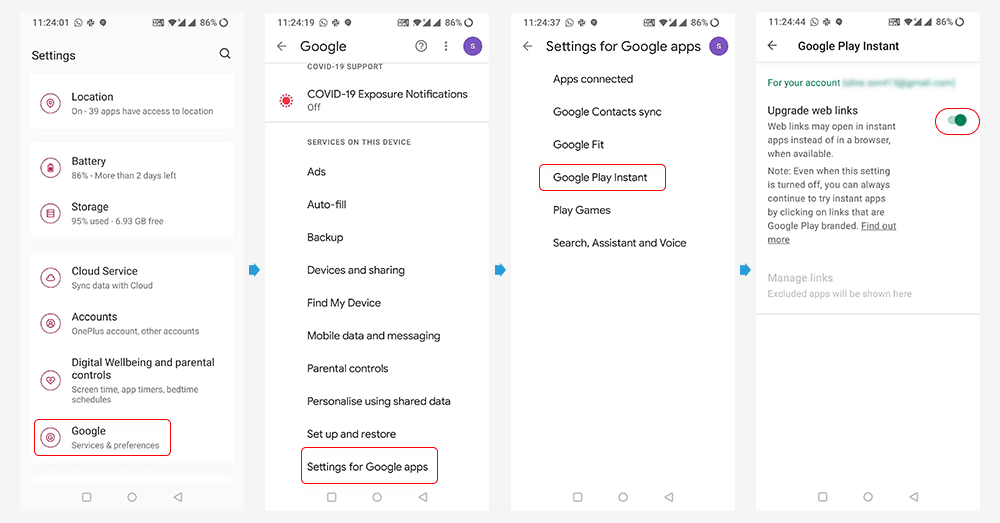 After configuring the required settings, users can search for Google Play instant applications in their browser or Google Play Store. Instant apps appear:
In Google Play Store. Some of the apps offering instant experience features will have a 'Try Now' button.
In Google search results. You just need to tap the designated URL and instantly head into the app.
When someone sends you a link with an instant app.
Through Near Field Communication (NFC) wireless technology which enables mobile devices to accept the data via nearby data transmitters.
Why Do You Need an Instant Application for Your Business?
Do you know why users uninstall an application? As per the statistics by CleverTap, almost 39.9% of users uninstall an app as it is not in use. Moreover, 18.7% of users have to remove an application from their device due to limited storage. In rough figures, you can say that approximately 59% of users do not want an app either due to one-time use or little device memory. But how can that affect your business? Well, it can have a profound impact on your business and revenue generation. According to an analytical report by Appsflyer, an average application lost around $57000 a month in 2020 due to its uninstallation.
So, from the above analysis, what do we get to learn? The main thing to focus on in the above statistics is that people don't want to (or can't) install applications as they want to use them for a while, or they have no space left in their phones. To overcome this issue, Google introduced the concept of instant apps for Android devices.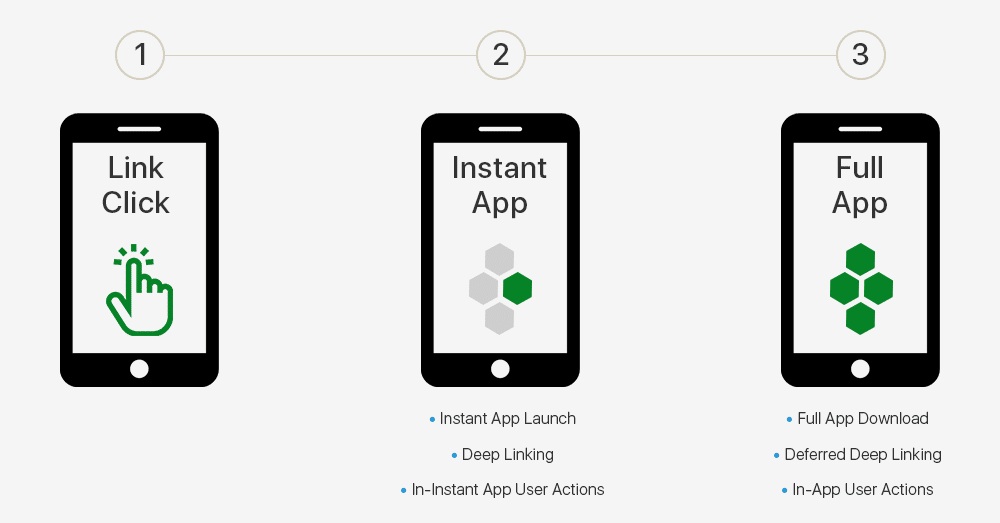 An Android instant app allows users to access a portion of an application's code with the required functionalities. Instant apps offer users a seamless experience without wasting time and effort. Moreover, with instant apps, businesses can provide their users with an instant understanding of their products and services. It means the users do not need to invest their time searching for you on the web or downloading your app to interact with you. Instead, they can instantly experience your application's functionalities, and if they like it, they can also download the entire application later. It will help in enhancing your brand awareness and generating revenue.
Features of an Android Instant App
Since from the above sections, you might have understood that an instant application is a portion of the main application that serves a specific functionality to the users. But what are the features that make it a considerable strategy to get hold of? Well, here is the list of some exciting features that you can get with Android instant applications:
No installation required
Android instant apps enable Android users to use your business applications instantly without downloading and installing them. You might feel that how not installing your app will help enhance your digital presence. Well, when your users save their time and effort by avoiding the installation process, they can easily access your app and experience its features. If your instant app seems to be valuable to your users, they will download the full version of the application and might not uninstall it soon as they have already tested its benefits for them. It's like having a cake and eating it too. You get both the users' trust and brand awareness for your business.
Easily accessible from anywhere
Your users can have a native Android experience of your application from any source, be it Google search results, social networking sites, text messages, and other deep links. Moreover, your users always have an option to search Google Play for instant apps and try the lightweight version of your application from anywhere.
Works on the latest devices
Google instant applications support the latest versions of Android devices (from Android 6.0 and API level 23) across over 40 countries. Furthermore, Google is planning to roll out support to more devices and regions soon, including extending the assistance to the devices with the Android 5.0 version (API level 21).
Easy up-gradation of your existing app
As already mentioned, an instant app is a part of your existing application, not a separate app. It uses the same Android APIs and the same source code. It is just like an upgraded version of your primary Android application. You can modularize it using Android Studio so that users can load only that part of the instant app that they require. You do not need to hire a specific Android instant app developer for this task.
Some More Benefits of Android Instant Applications
Android instant apps come with a complete package of benefits that can help in nurturing your business growth. Here are some of them: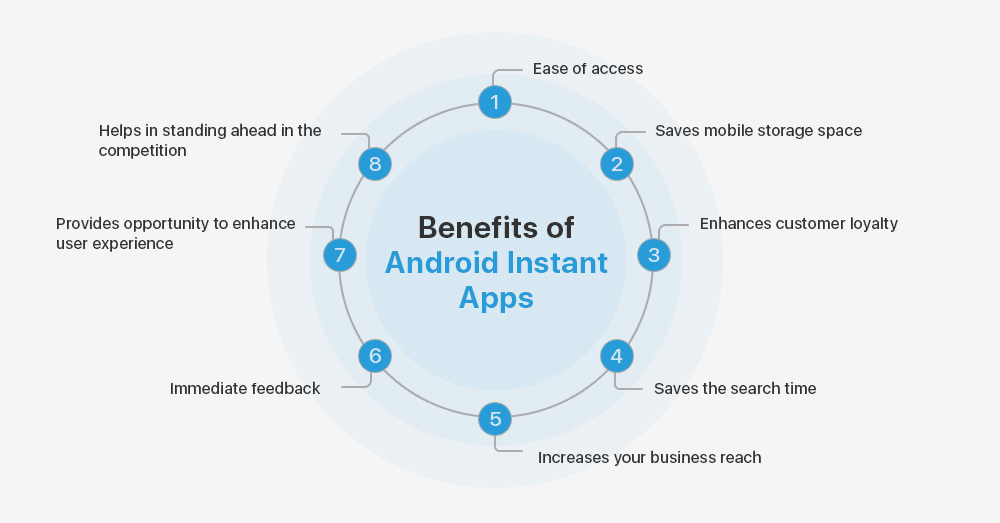 Instant apps offer ease of accessibility.
The users get pre-assurance and experience of your applications without downloading them.
These apps save the mobile storage space of the users.
An instant app also helps in saving time while searching for the app, downloading and installing them to get the information about your product and services.
Instant apps provide your business with an opportunity to enhance the user experience.
You can get immediate feedback from your users through instant apps.
You can also enhance your customer reach and brand awareness with the help of these applications.
Since instant apps offer a pre-assured experience, customer loyalty for your brand significantly increases.
Finding an instant app is also straightforward. A user either needs to open a designated link or access Google Play for instant apps.
An Android instant application also helps you retain your existing customers, reduce app uninstallations and stay ahead of your competitors.
What Specificities Do You Need for an Instant App?
Although instant apps are an advanced feature in the mobile app space, their development process is not much different from conventional applications. To prepare an instant app from your existing application, you need to refactor the application code. Just keep in mind that the quality of your instant app experience has a profound impact on the long-term success of your mobile application in terms of installations, pre-registrations, user retention or business growth. Therefore, make sure the instant experience from your Android instant app should meet the users' basic expectations they imagine in an application.
Tools Required to Create an Instant Application
Android Studio
Android Software Development Kit (SDK) 6.0+
Java Development Kit (JDK) 1.8
Android Tools 25.x or above
Gradle 4.0+
Required Key Steps to Make Your Existing Application for an Instant App
Firstly, eliminate any unrequired bulky features from your app. You have to make sure that your instant app's total APK size must not exceed 15MB. In fact, try to reduce it to less than the 10 MB mark.
Each feature or a specific page of an instant app should be equal to or less than 4 MB. One of the main limitations of instant apps is that developers can not insert heavy multimedia elements or HD videos in an instant app, at least for now.
Refactor or recode your application to optimize it, if necessary.
Seek and execute runtime permissions from Android 6.0 or above platforms.
Make sure to support Android App links for your instant app.
You can also apply smart locks for a passcode for security purposes if your app requires user authentication.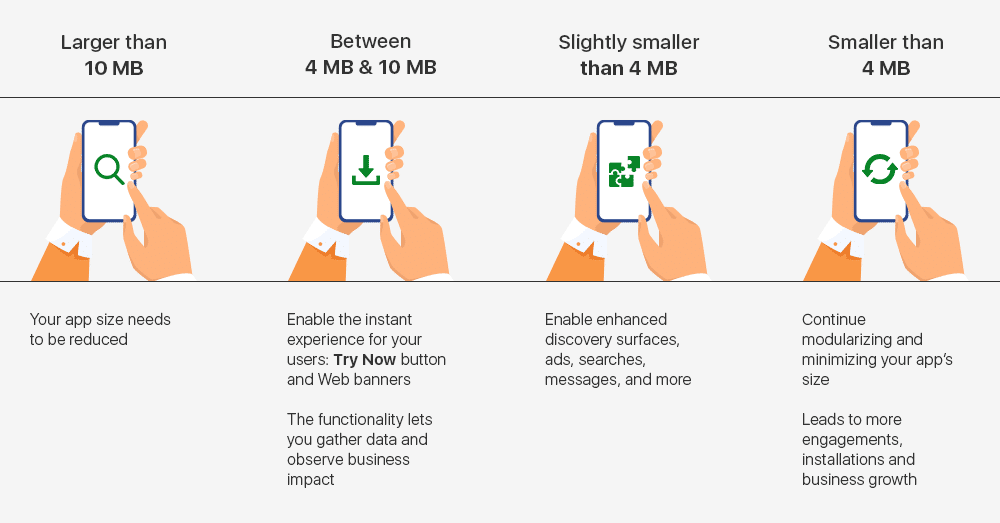 Technical Requirements Needed for an Instant Application
Instant App Size
An instant app must not be more than 15 MB in size.
It must not utilize more than 150 MB of storage space on the device.
The recommended size for each feature of an app must be less than or equal to 4 MB.
Installation or Pre-registration of App
An instant app must contain a clearly marked pre-registration or installation mark if the company offers pre-registration or installation options for the application. You can display a determined button on the main screen, between actions in your instant experience or throughout the instant experience.
Label Install or Pre-register call-to-action buttons on your instant app.
In-app Navigation
It should not take more than 15 seconds for your users to engage with the instant experience over an LTE or 4G connection when uncached.
Provide support for the Android back button. Your users must be free to walk back through the history of pages or screens they have formerly visited.
It should not take more than two clicks for your users to exit the instant experience.
Offer a confirmation prompt when a user clicks a back button with clearly labelled Cancel or Exit options. The cancel button must return the users to the instant experience, while the exit button must get them to the screen they visited before entering the instant app.
Ads Display
Use only self-effacing banner ads. Do not use full-screen ads that might create a disturbance for your users while accessing your instant app.
Make sure not to present any ad as an in-app element.
In-app Purchases
If your Android instant app offers any kind of in-app purchases, your instant app must transfer the in-app items to the installed apps.
Which Companies Have an Instant App or Upgraded Their Existing App for the Same Purpose?
Although the concept of instant apps originated in 2016, still many companies are unaware of this technology. However, some industries and famous brands have adopted this method to reach genuine traffic and expand their business growth. Here is the list of industries that can benefit themselves through an Android instant app:
e-Commerce and e-Stores
Gaming, Music and entertainment
Education
Healthcare and Medical
Travel and Tourism
Real Estate
If your company comes under one of these industries (or even if it doesn't), it would be better to opt for an instant app to speed up the process of promoting your brand and reaching out to your target audience. Below are some famous companies that have already developed an instant app for mobile users.
Wego
Wego is a well-known, award-winning mobile app renowned for travel and hotel booking for travellers living in the Asia pacific and middle east regions. It uses a simple yet powerful method that automates finding and comparing results from hundreds of flights, hotels and online travel booking websites.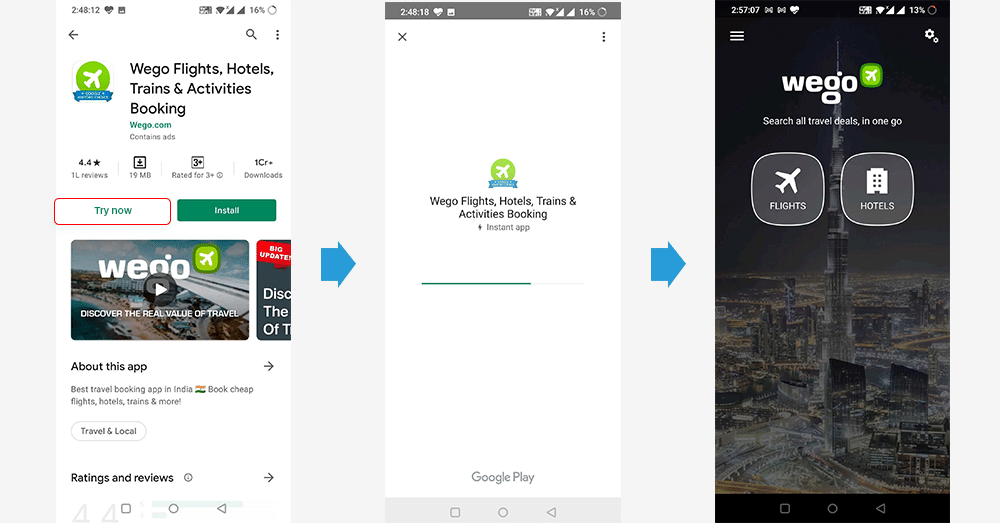 Impact of using an Android Instant app
BuzzFeed
BuzzFeed is known to be one of the first companies that have adopted the concept of the instant application. It is an American online media, news and entertainment company that focuses on digital media. It introduces the users to a mind-blowing experience of exploring content without downloading an application.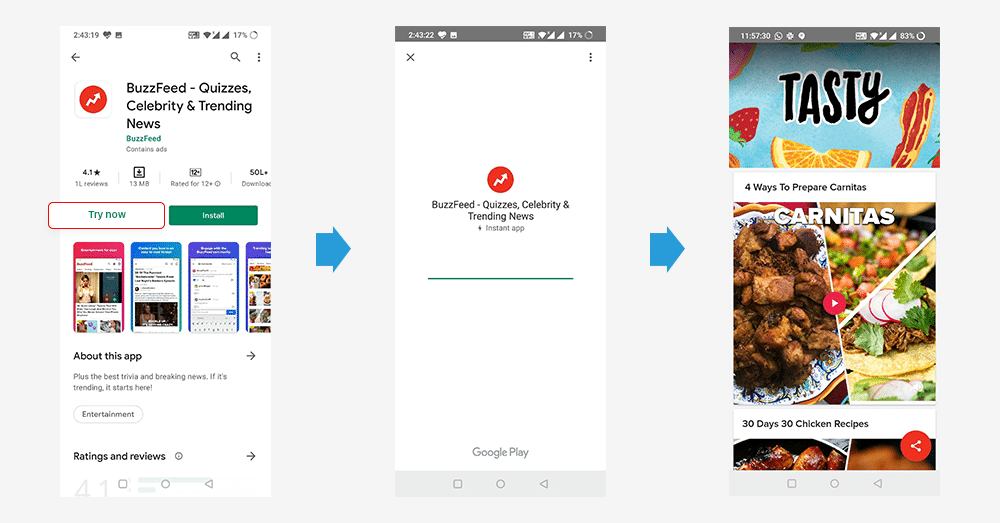 BuzzFeed is also believed to have worked with Google to develop this concept of the instant app (known as Westinghouse when Buzzfeed was developing it) and welcomed the first instant application to the world.
Goibibo
Launched in 2009, Goibibo is a part of Ibibo Group, a subsidiary of MakeMyTrip (MMT) Ltd. It consists of India's most prominent hotels collection and is also one of the chief air aggregators. Goibibo's instant app offers its users to search and book bus and railway tickets. However, to book flights, hotels and cabs, users need to install the entire application.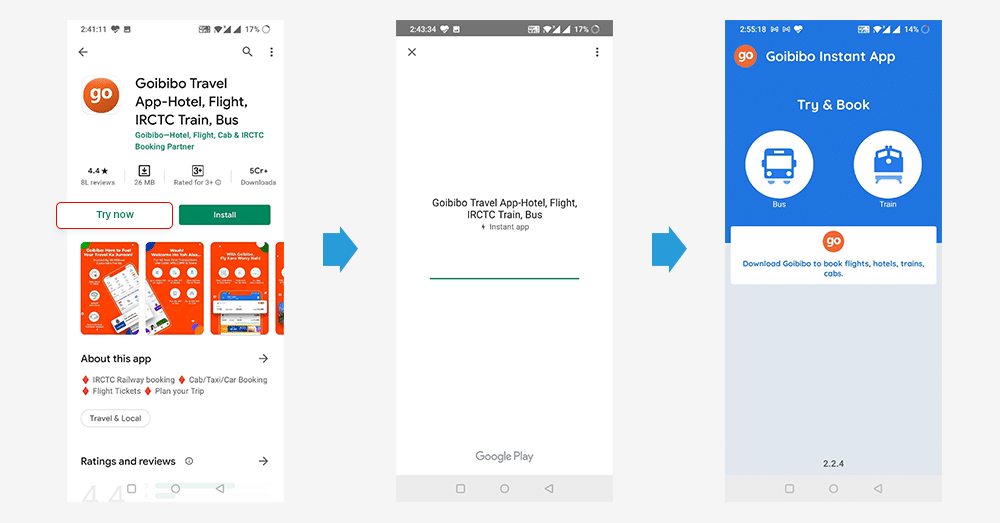 Gaming apps like COD, Clash Royale
Many gaming companies offer a trial version of their game applications so that users can understand the concept of the game, and based on it, they can judge whether they want to install the whole application or not. For example, Activision's Call of Duty (COD) mobile game provides users with a free trial to understand the notion behind the game. Although the instant app would lack high graphics and full controls of the game and to enjoy them, you need to download and install the complete package of the applications.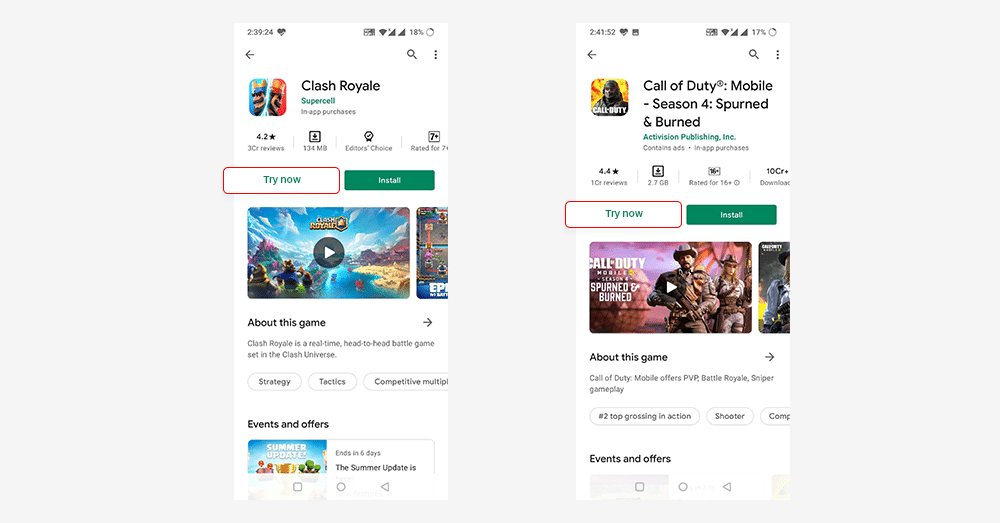 Final Thoughts
The development of instant apps demonstrates a technological breakthrough in the world of mobile apps. It is an all-new way for business owners to offer users a lightweight, compact-size version of their Android business application without visiting the Play Store and installing it. From the features mentioned above, you can understand how beneficial an Android instant app can be for entrepreneurs and start-ups. Therefore, the days of app download numbers determining the success of a business are long gone. Now, what matters is to provide your users with the core metrics about your business application to grow your business in terms of enhancing customer reach, users retention and revenue generation.