When you will turn your head and look back, you will realise what a fantastic journey it has been! Android has metamorphosed both visually and functionally from its first commercial release in 2007 to improved updates till today. Although, like other technologies, Google's mobile OS started scrappily. However, with time, it evolved as a dominator in the field of mobile operating systems, winning the hearts of more than 2.8 billion users worldwide.
Today, in this article, we will talk about this globally renowned platform's journey from birth to the present. This informational piece will bring you a fast-paced tour to relive the entire trip of transforming Android versions. The possibility is you might end up taking services from an Android application development company after reading the entire blog.
The Early Days: Android Beta, Android Version 1.0 and 1.1
The ride started in 2003 when the development of Android was started by Android Inc., which Google later purchased in 2005. Google launched the beta version of Android on November 5, 2017, with the assistance of Open Handset Alliance (OHA). However, the development of its SDK took around seven days, and Google released it on November 12, 2007. Many public beta versions of the software development kit were released through software emulation as there were no specific physical devices available to test the OS.
Then comes the first batsman from team Android, all set to play its very first innings. Android made its first commercial release in 2008 with the launch of Android 1.0. During that time, Google did not enter the smartphone world as a mobile phone manufacturer. Instead, it marketed its mobile OS to other smartphone companies. HTC became the first to integrate Google's platform into their T-Mobile G1 (aka HTC Dream) handset. And that's how Android started its journey in the world of smart devices. You can read about the history and evolution of Android in our previous blog.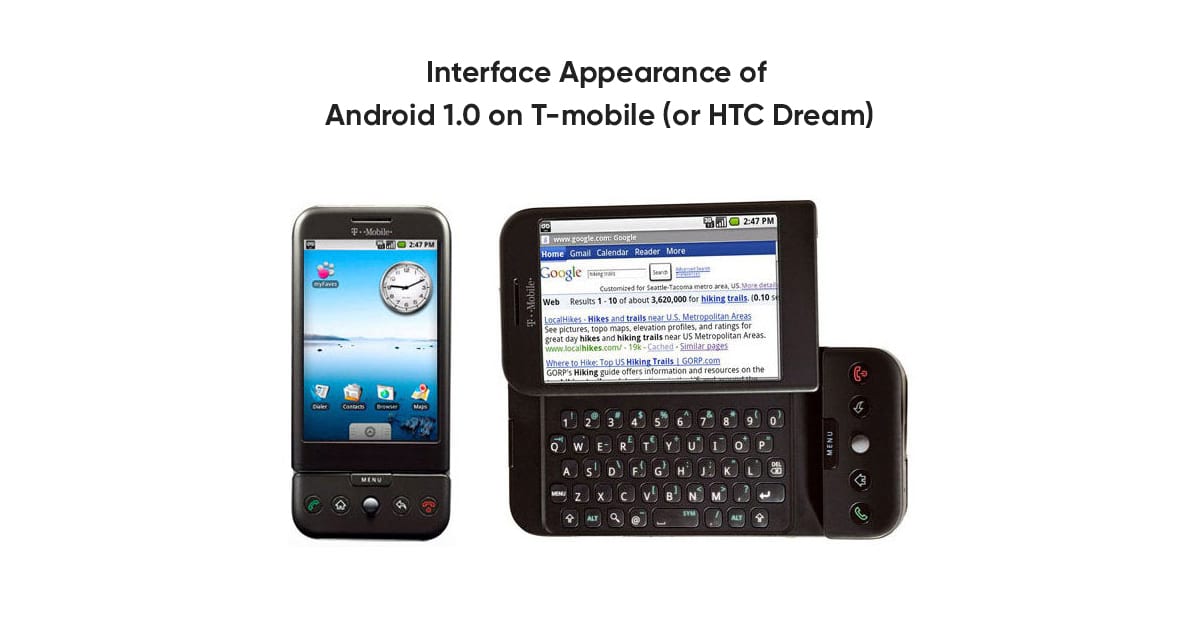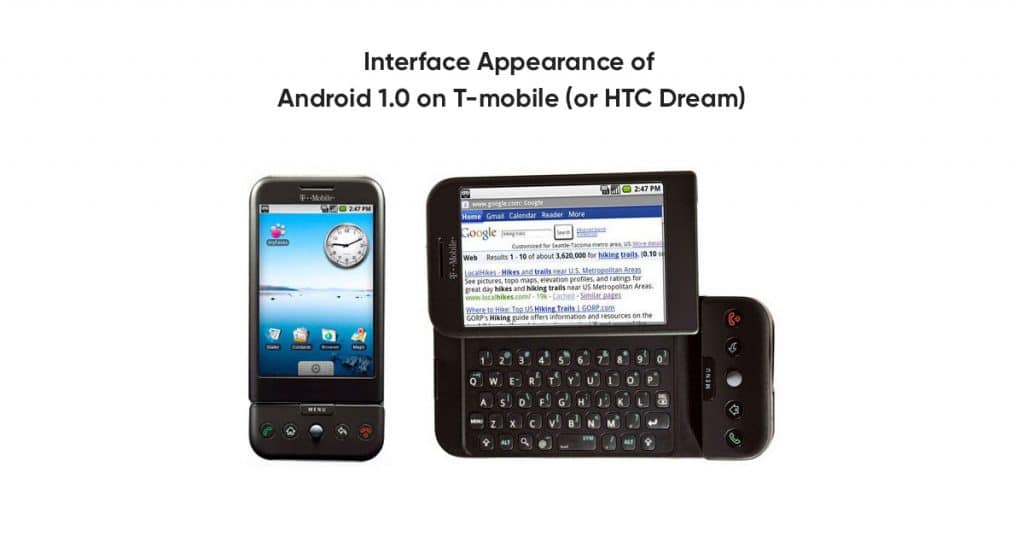 The release of Android 1.0 was so ancient that it did not have any codename back then. According to some people, names like "Astro Boy" and "Bender" were associated internally with the pre-builds of Android 1.0. However, these were never accepted as official codenames of early Android versions.
The features were pretty basic, and the developers developed Android far less than the OS we know today. Nevertheless, Google still managed to add a suite of essential Google applications, such as Gmail, Google Maps, Calendar, YouTube and an HTML browser (which wasn't called Chrome yet).
Some other features included in Android 1.0 and 1.1 similar to the current version of the OS is the pull-down notification window. Even these earlier versions know how to deal with push notifications and manage them for users' convenience.
Another trailblazing invention in Android comes in the form of the Google Play Store, which was known as the 'Market' back then. It was (and still is) the central place where all the Android applications are available for download.
Apart from the Play Store (or Market), another innovation included in Android 1.0 and 1.1 was utilising home screen widgets. It is one of those features that were not available in iOS and wasn't even incorporated until the introduction of iOS 14 in 2020.
The Later Versions of Android OS
Before we start discussing them, let's look at the picture below to get an idea about all the versions of Android that have come into existence to date.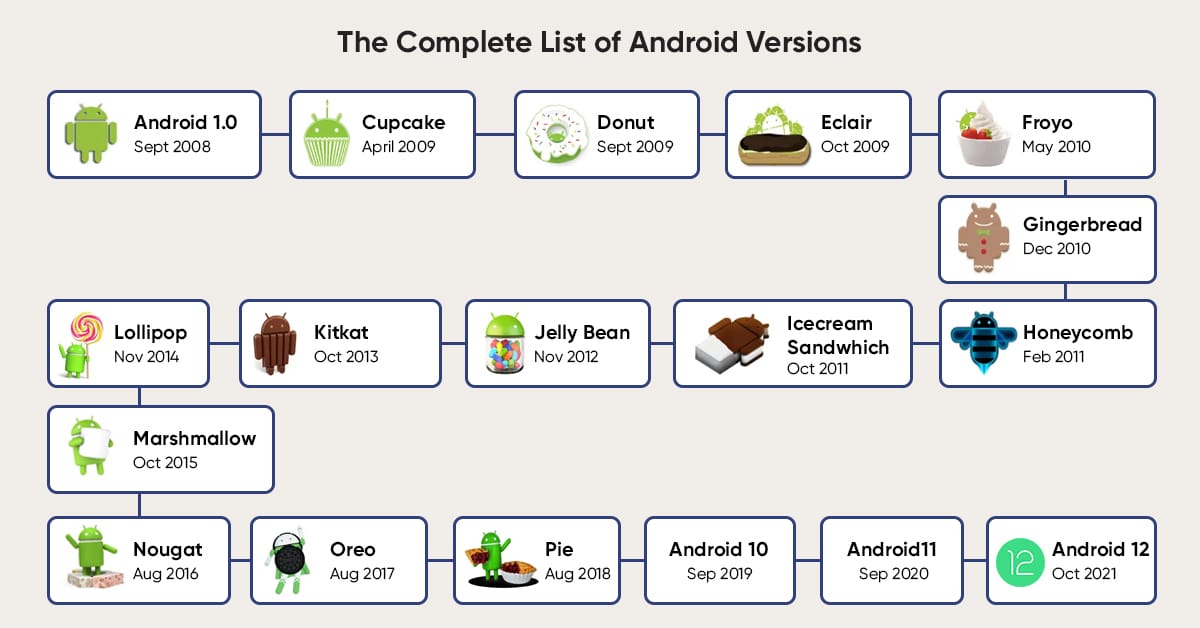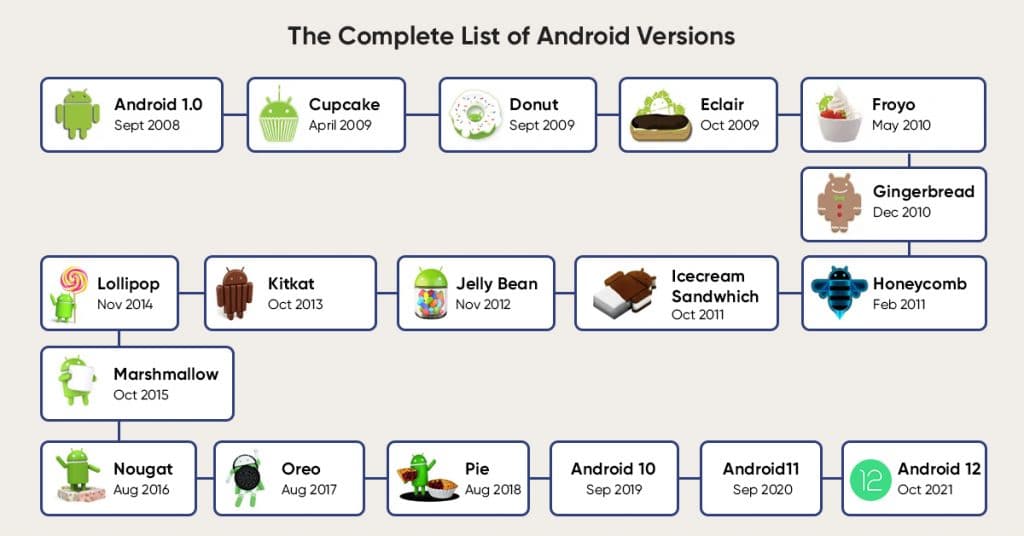 We will talk about each one of them in detail. So, let's get started with Android Cupcake.
Android 1.5 (Cupcake)
Released in April 2009, Android 1.5 was the first Android version having a codename. It was also the first version of Android containing an on-screen keyboard. This version added a few newer features compared to Android 1.0 and 1.1. Some of the key elements to note are an automatically rotatable screen, third-party keyboard support, and the ability to upload videos to YouTube.
Some of the handsets launched with Android Cupcake installed include Samsung Galaxy S series phones and HTC Hero.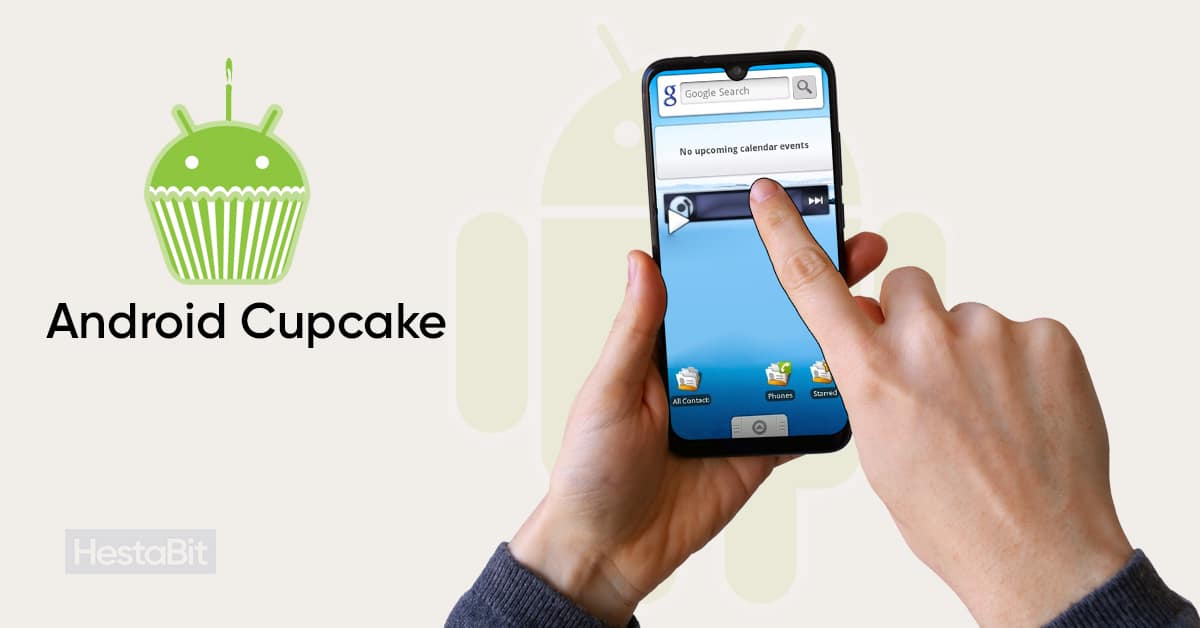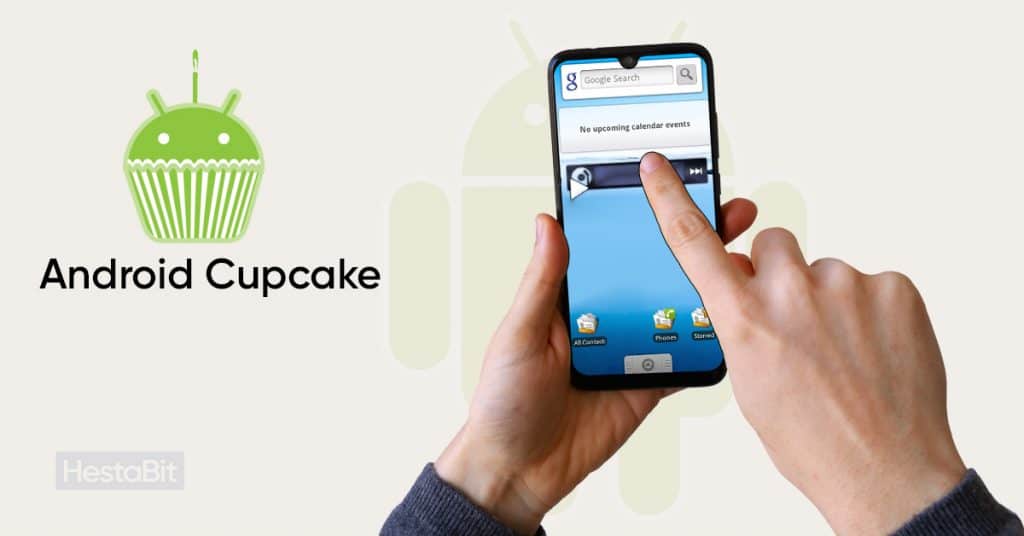 Features of Android 1.5
Android 1.6 (Donut)
After the release of Cupcake and observing its success, Google did not wait for too long to launch its next update in September 2009. The new update Android 1.6 (or Donut) offered support for CDMA-based network carriers. Other top features include quick toggling between camera, camcorder and pictures gallery for a streamlined user experience. Donut also came up with a power control widget for managing the primary connectivity option, like Bluetooth, Wi-Fi, GPS, etc.
Some of the famous brands launched a very few devices with Android 1.6, one of them was Dell Streak, having a screen size of 5″, which was considered to be huge at that time.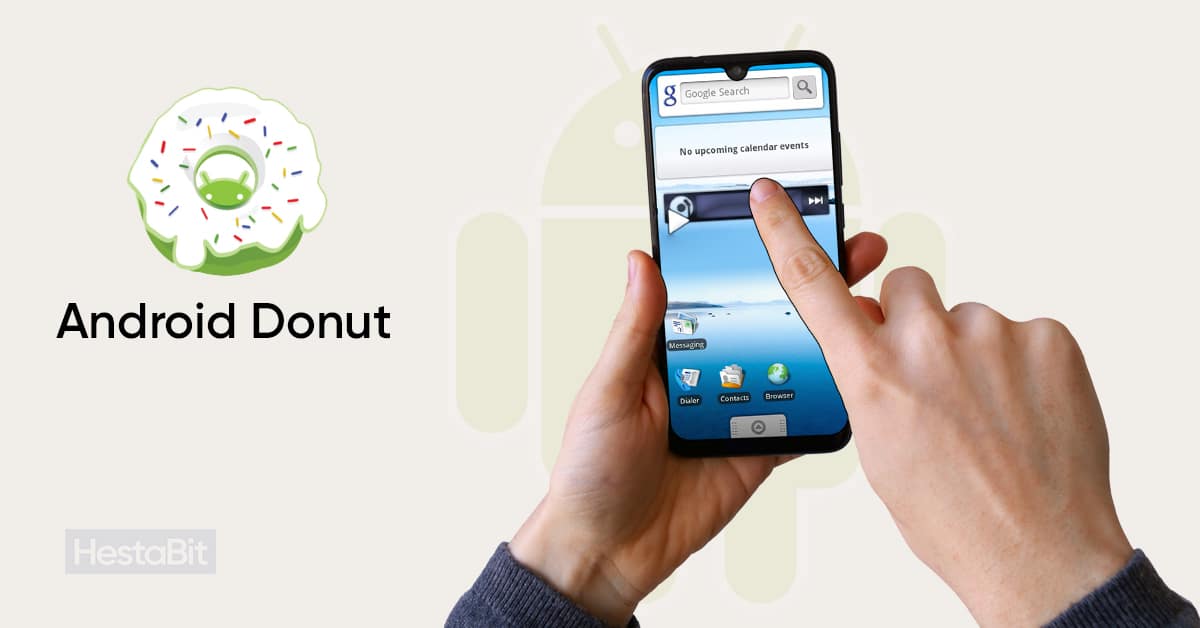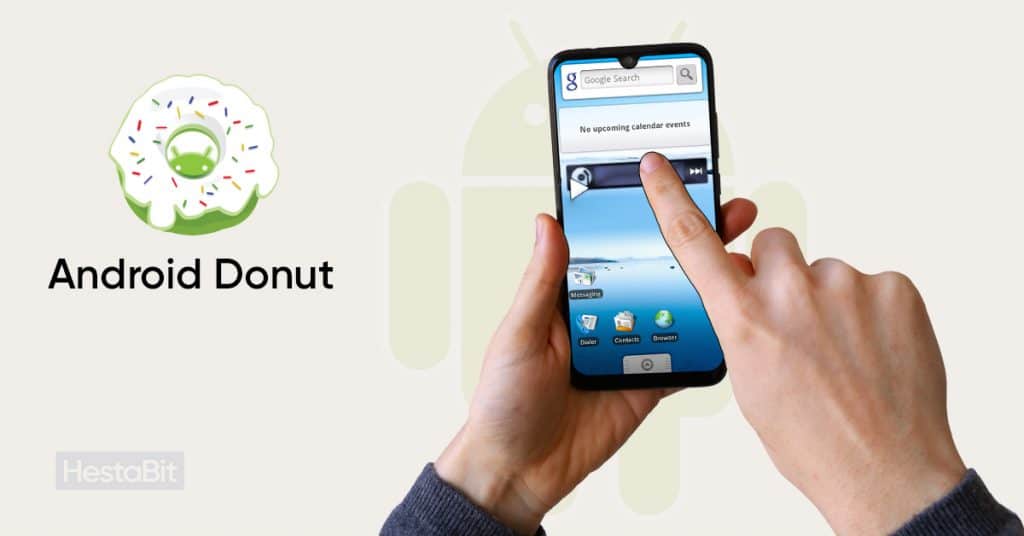 Features of Android 1.6
Android 2.0-2.1 (Eclair)
The Android 2.0 version was released in October 2009, about a year after the launch of Android 1.0. Google took over a month to launch the next version in the list as "Eclair". It supported the features of text-to-speech, live wallpapers, multiple accounts login, and many more. This version also came up with the Google Maps navigation option that is still one of the groundbreaking innovations to ease the travelling for the users.
The first mobile company Motorola launched the first handset (Motorola Droid) integrated with Android 2.0 Eclair.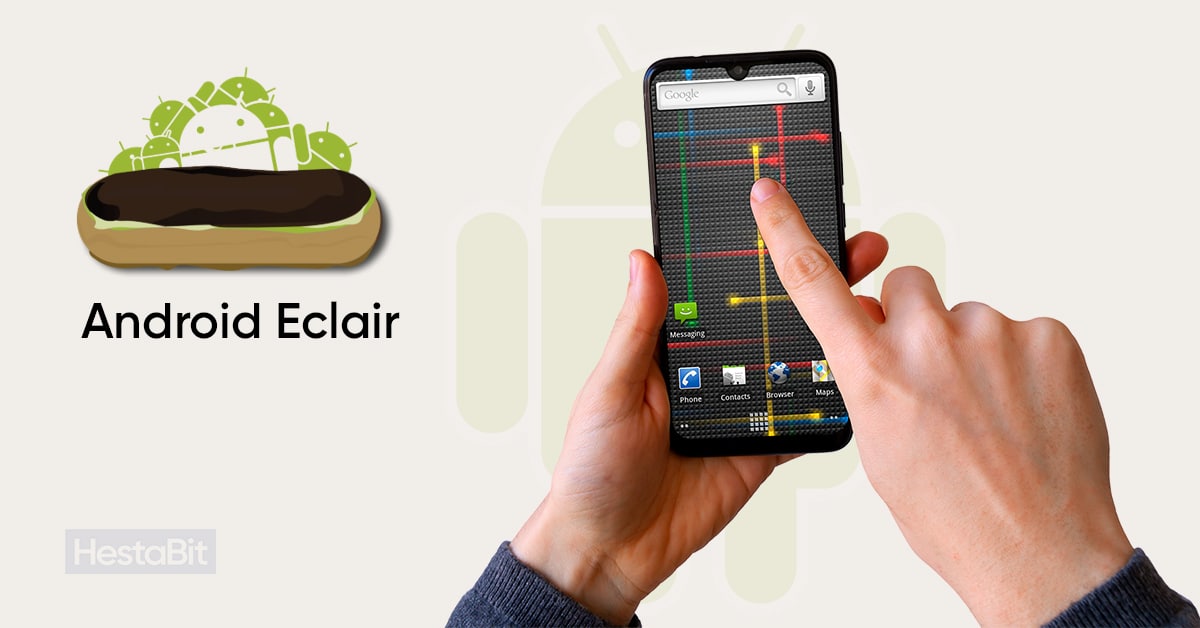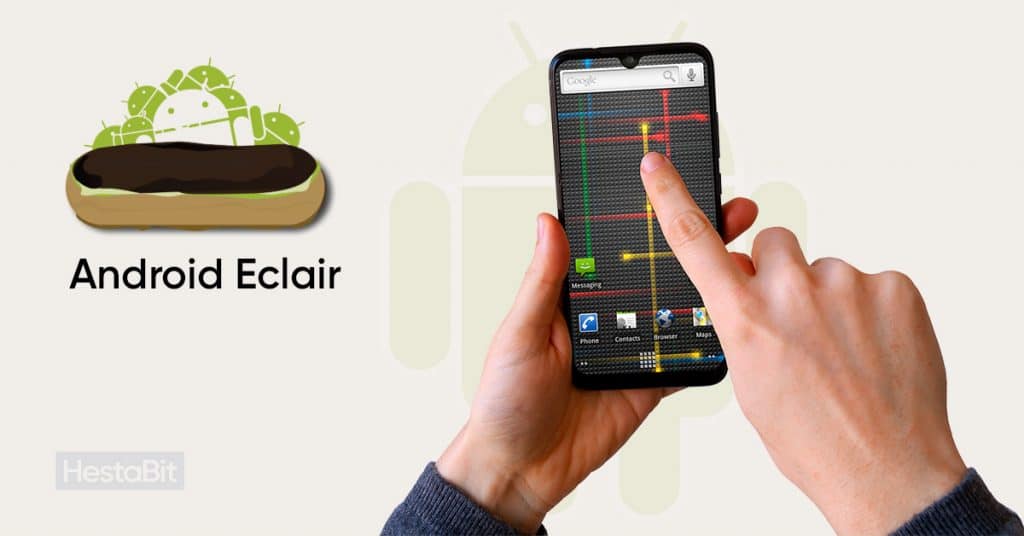 Features of Android 2.0
Two more updates came in the next three months (2.0.1 and 2.1), which looked forward to bug fixes and minor improvements in the API.
Android 2.2 (Froyo)
The next version in the list is Android 2.2 or Froyo, which is the short form for 'Frozen Yogurt'. Google officially launched it in May 2010 with the mind-blowing features of Mobile hotspot connectivity and PIN lock for more security.
The first mobile phone that came with the Android 2.2 update is Nexus One, which aimed to refine the user experience and interaction.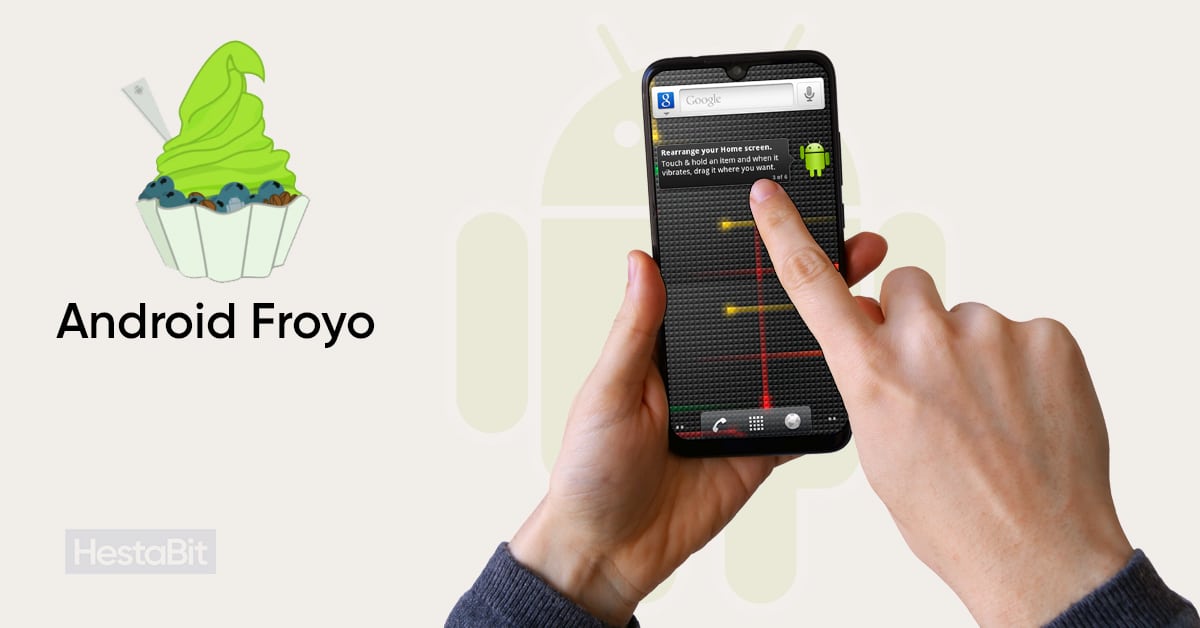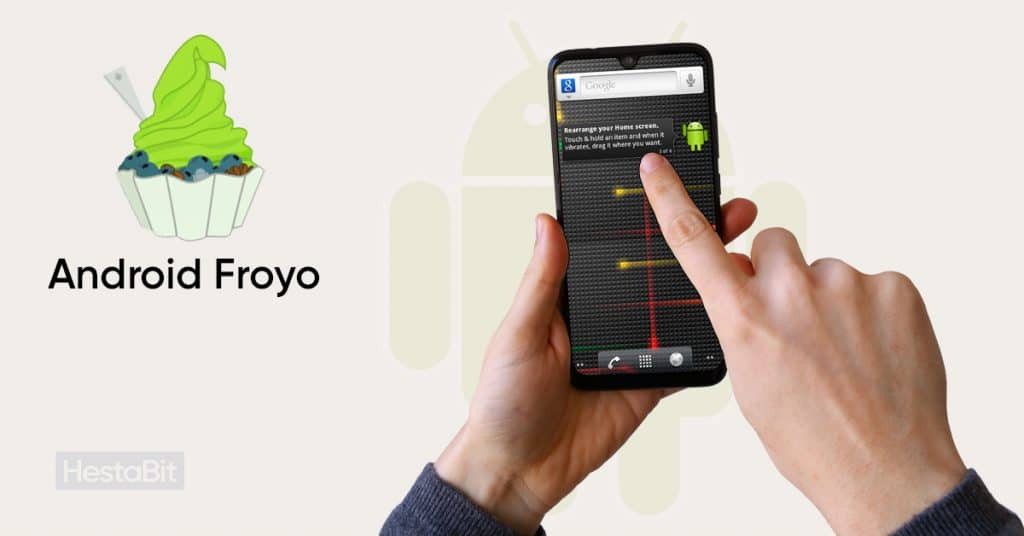 Features of Android 2.2
The later updates (2.2.1, 2.2.2, and 2.2.3) mainly dealt with bug fixes, security updates, performance enhancements and fixing SMS routing issues for Nexus One.
Android 2.3 (Gingerbread)
The actual visual identity of Android came into the limelight after the release of Android 2.3 (Gingerbread) in December 2010. It appeared as a redesign of Android's stock widgets and home screen UI. Gingerbread supported smartphones with NFC (Near Field Communications). Along with that, it also came up with an enhanced keyboard and multi-touch support. Last but not least, it brought a surprise for selfie lovers – yes, it supported front-facing cameras. Users also have an option to video chat with the help of Google Talk.
The first device that supported both Android 2.3 and NFC was Nexus S – a mobile phone developed by the collaborative effort of Google and Samsung.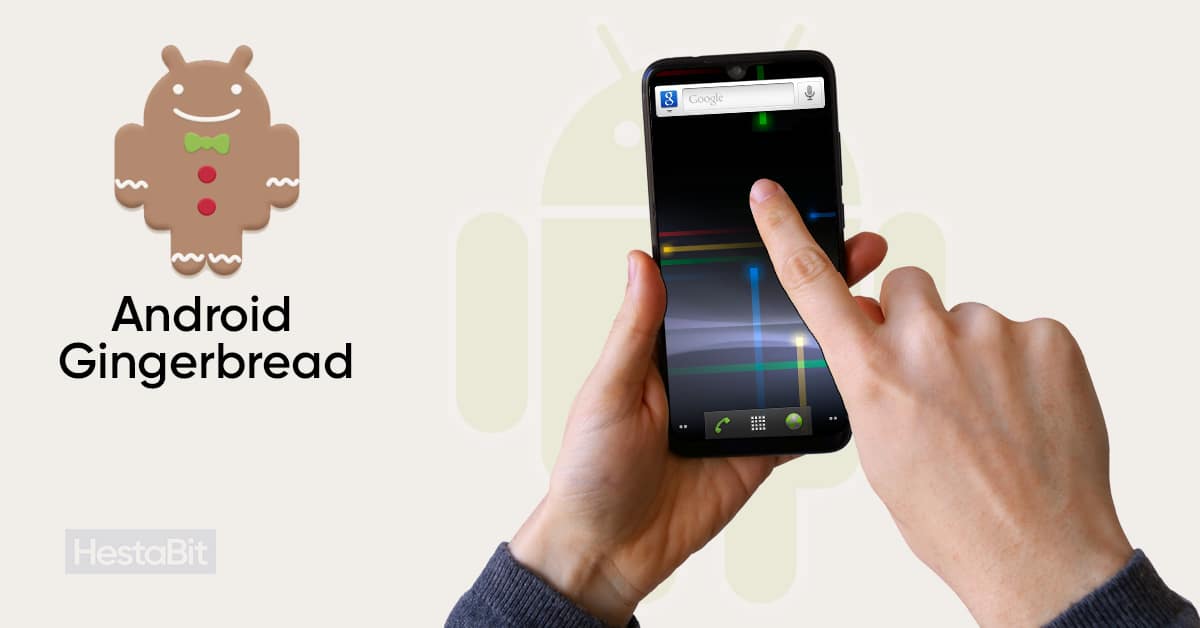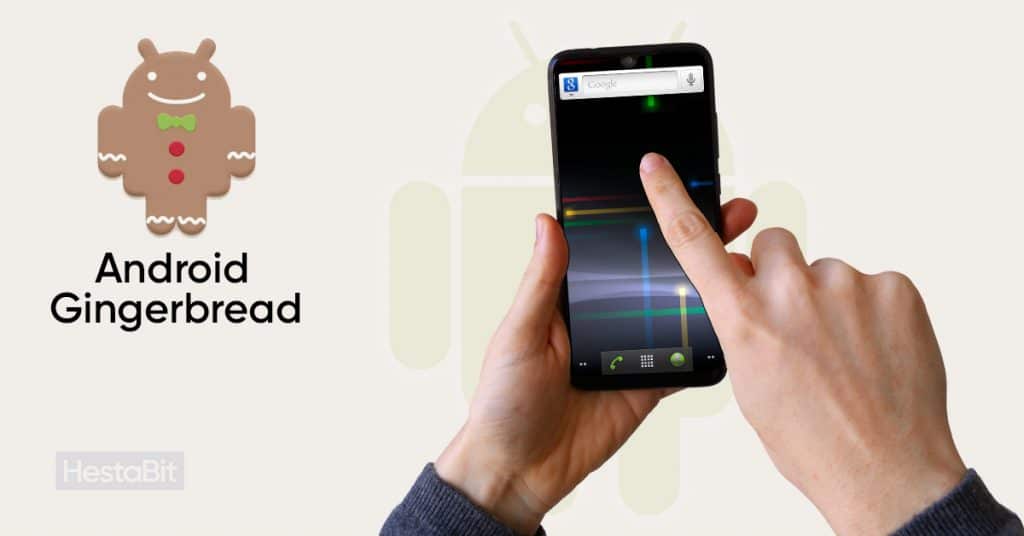 Features of Android 2.3
Around seven more updates of Gingerbread were released by Google for one year, which mainly focused on API improvement, bug fixes and performance enhancement. The later updates also included improvement in camera functionalities, battery optimisation, modifications in applications, such as Gmail, Google Talk, etc.
Android 3.0-3.2 (Honeycomb)
HoneyComb was the odd one out in the history of Android versions as its primary focus was tablets and other large-screen smartphones. It was first released in February 2011, focusing on targeting Android devices (specifical tablets) with large screen resolutions and sizes. The eye-catching features include redesigned UI in which physical buttons are replaced by virtual buttons available on the screen.
The first device launched with Android Honeycomb is the Motorola Xoom tablet. Other than that, the early tablets from Samsung (Galaxy series) also used Android Honeycomb as their operating system.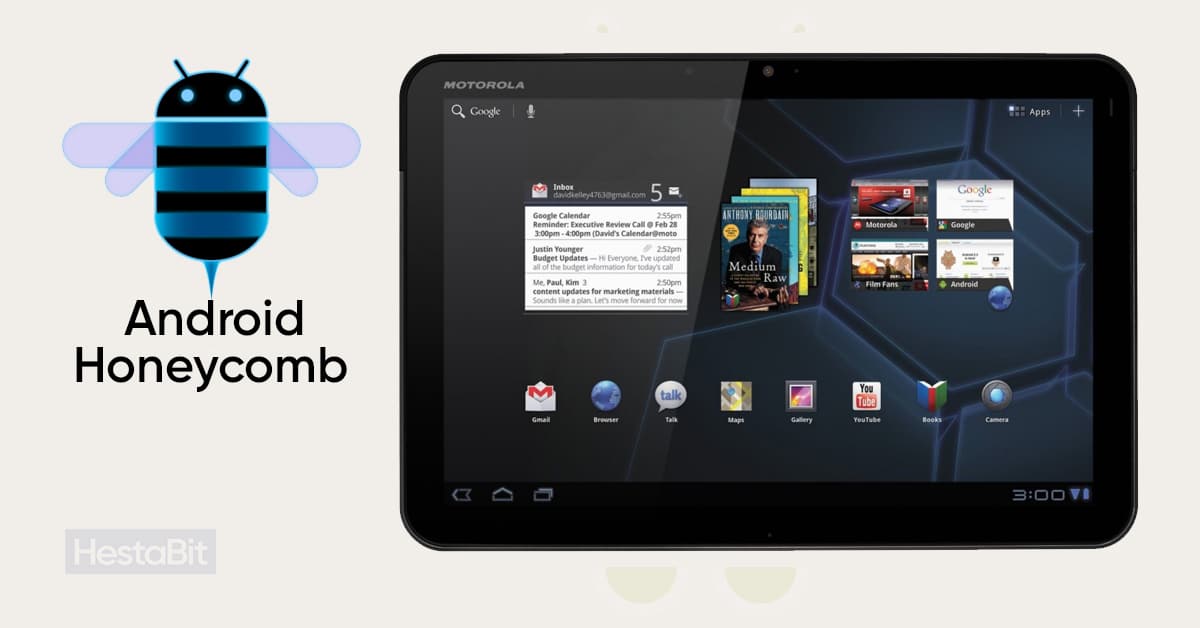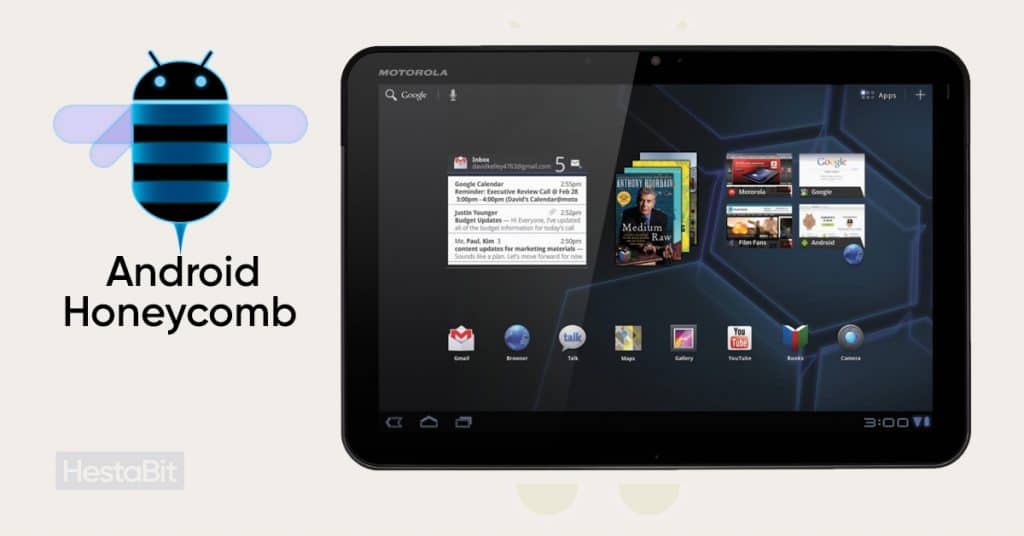 Features of Android 3.0
The later significant updates (Android 3.1 and 3.2) focused on UI refinement, enhancement in connectivity (Wi-Fin, USB-on-the-go, etc.), and improvements in application software, such as Google Books, Adobe Flash, etc.
Android's Journey To be Continued
For now, we will ask you to wait till we continue describing the other versions and their features in the following article. You can read about them in our next blog. Till then, hang in there and we will be back with another interesting and informational piece for you! 🙂